Updates
International Fellowship updates!
Posted 04/27/2019 by Suzanne Lennard
Hi friends! We have our summer schedule available on Monday nights. If you would like to bless us with a meal (and your presence!) we would love to have you sign up! Blessings to you all!! Your friends at International Fellowship
Share
---
Happy New Year, International Fellowship Supporters of Meal Volunteering.
Posted 01/07/2019 by Suzanne Lennard
Happy New Year and welcome to 2019! The new year has begun. I'm excited about what God will do this year. God has been so faithful and merciful to us. By his grace, we were able to serve and love many international students from all over the world in 2018. Above all, we were able to share who Jesus is through our Bible studies. Thank you for your support of providing many meals last semester. We are needing your help and support again for this semester. We have many students continuing to come to our Bible studies on Mondays and Thursdays. We are firm believers of having a meal together because it opens many opportunities to build a good relationship and to share the Gospel. If you are interested in helping us sharing the Gospel with international students and spreading the good news, you may sign for providing a meal on either Monday, Thursday or both. Following is the link to a website to sign up for a meal. www.mealtrain.com/trains/m7rm0l If you have any questions, please contact Terri Merritt. Tel: (417) 827-2655 Email: edandterri@suddenlink.net Thank you for your love for Christ and for the nations. Sincerely, International Fellowship
Share
---
Thank you for your support! -from International Fellowship
Posted 05/17/2018 by Suzanne Lennard
Dear International Fellowship Families, This is Dae Sung Hong from International Fellowship. Last week, we had our End of the Semester Party to celebrate another successful semester in the lives of our international students. I would like to thank you for showing your overflowing love by bringing amazing meals for us this semester. With your help, we provided 26 meals total to an average of 25 students each night on Mondays and Thursdays. When we decided to hold the Bible study night twice a week starting this semester, we were not sure if it could possibly happen because of the high pressure of providing meals. We all know that it is not easy to provide a meal for 30 people twice a week. After fervent prayer and discussion, we made our decision in faith to do it, believing that God will provide, for He is faithful. And yes, He provided it all! You all have been our answer to the prayer. Because of your love and support, we were able to have genuine fellowship with our students and show them who God is and what the Christian life is like. Thank you again for your love. This summer, we are going to continue meeting on every Monday night starting May 21st. Many students are staying in Springfield during this summer. We don't want to miss this opportunity to develop a deeper relationship and share God's heart with them. So, I invite you to join this great outreach. We will continue to meet at 6:30 pm to eat and do our Bible study afterward. Please pray for us that students' hearts would be softened so they would receive the words of God as they study them. Also, if you would like to provide us a meal for the Monday evenings, below is the website link for the Meal-Train sign up. https://mealtrain.com/m7rm0l Please let me know if you have any further questions. Thank you. Blessings, Dae Sung Hong Meal Train Coordinator PS: Please do not post this photo on any public Social Media websites. Thank you.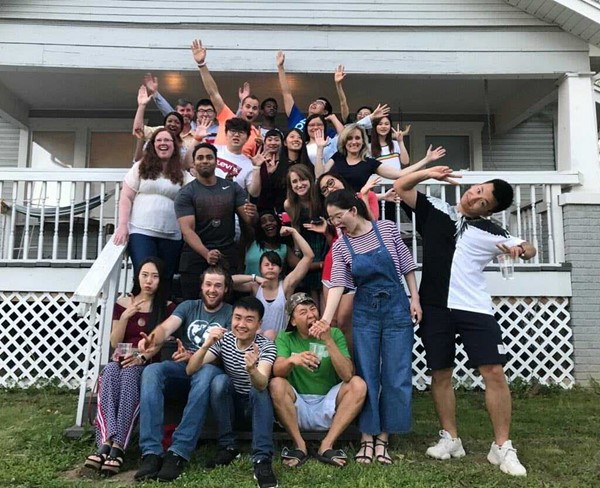 Share
---