Updates
Updated Grocery List 2019
Posted 01/23/2019 by Val Lalonde
For the family: Oranges Apples Bananas Melon (any type) Strawberries or Grapes Peppers (bell any colour) Cucumbers Lettuce (organic) Crackers or granola bars for lunches Ketchup Ranch Caeser dressing Cereal Oatmeal 2%milk Yogurt Butter Sour cream Cheese Eggs Almond milk Buns bread Toilet paper Paper towel Kleenex Dish soap Laundry soap Any of the above even one or two items dropped off would be a huge help. Groceries for Sean: Organic fruits or vegetables Oranges for juicing Celery for juicing Organic meat chicken or beef Organic sausage Annie's gluten free Mac and cheese Organic cheese Gluten free bread or wraps Gluten free oats Agave syrup Coconut oil Almond milk Gluten and sugar free baking Ingredients for baking Their schedule is so full at the moment that these simple tasks are quite daunting. Any help in these areas would be greatly appreciated. Thank-you so much!
Share
---
May 9
Posted 05/10/2018 by Val Lalonde
May 9 What a whirlwind it has been the last week. We have felt so incredibly supported. Thank you to everyone who dropped off food over the last week. It was delicious and nutritious. 😁 I've been so touched by everyone's love and prayers. Often I'll run into someone and they'll tell me We've been on their minds and that they are praying for us daily. This means so much to our family. I believe there is such power in prayer. God asks us to come together and seek Him. Thank you for doing this with us. Yesterday we met with the oncologist. Sean got weighed and had lost another 20lbs since his procedure in March. This was really heavy for him and discouraging, as he is feeling better but still trying to build up His appetite. Prayer for this would be great. The meeting with the oncologist went well. He is looking into clinical trials. He did say chemo is an option but not a great one. When we come back from our trip Sean is going to get an MRI. please pray specifically for this. I'm believing for another miracle. We've already seen God do this and I don't know why we are praying for the same thing again. BUT I do know God can do it again. Please pray for Sean's cancer to shrink and die. For his liver to heal. And for him to have complete restoration. Thank you for standing with us. I believe we are to continue to fight this. The amazing thing is we do not need to fight this in our own strength. The battle belongs to the Lord. Exodus 14:14 The Lord will fight for you, all you need to do is be still.
Share
---
May 4
Posted 05/05/2018 by Val Lalonde
May 4 Wow what a week. I have not been good at checking the gofund me page as my sister and brother have been updating and maintaining it. But I did go look this week and have been so touched by all your generous giving. Even as I write this my eyes are filled with tears. (It's been a roller coaster of emotions this week) Each one of you will never know the impact you have made on our family. This week a dear family used all their air miles to buy our family of 7 flights to California. Not only that they rented us a van for the 10days. What a blessing. Then another dear family has put together a Disneyland package for us free. Where we can go park to park and not have the stress of having to cram everything in on one day. This is also a huge savings as Disney tickets for 7people is $$$$ We feel so blessed. And can't begin to thank everyone enough from the meals brought daily, to the money, and encouraging text messages. Thank you. This week we contacted our natural path and have started Sean on some tinctures and nebulizers. Sean has been having much less nausea so we are trying to slowly introduce different herbs that he was having aversions to before. We meet with the oncologist on Tuesday. We are going to get a wheelchair for the trip and talk to him about the chemo. But we will be waiting till we get back to start that. I am also going to ask for another MRI before we proceed with any medical procedures. May 17 we are headed to Disneyland for 10days. The kids are so excited. It has been amazing as almost our whole trip has been covered. We are still waiting to book our hotel as it's hela expensive. Lol. (Usually we camp or stay at my parents connection an hour away) Our family expenses have been quite a lot lately as we are making less than half what we usually do and Sean's medications are crazy expensive. One is $800 a month. We've already maxed our extensive benefits back in March, but our bc pharmacare deductible is almost covered and then they will cover 75% of the cost of Medication. Thank you thank thank you for loving on our family. We all feel so blessed which is a strange way to feel at such a time as this. Help spread the word!
Share
---
Latest Update, Please Pray
Posted 04/29/2018 by Val Lalonde
April 28 It's been 154 days since we found out Sean has stage four terminal liver cancer and hepatitis b. 22weeks, almost 5months. Sean's first CT scan showed that his liver was covered in cancerous Tumours and he was in liver failure. From that time forward we've seen many miracles. From how all of you have come together to support, strengthen and fight this battle with us, to financial miracles, to actual cancer disappearing. On March 22 Sean had a procedure called TACE. This is where they go into the liver and cut off the blood supply to the cancer in hopes to kill it. On April 19 we went back to Vancouver for another CT to see if this procedure had worked. Yesterday April 27 the doctor called us and gave us the worst possible news. The procedure did not work and the cancer has exploded. Sean's liver is covered in cancerous Tumours. They suspect the cancer could be in his blood which closes all doors to a transplant. They also assume the cancer has spread outside of the liver. The specialist was not sure where it had spread to, but at this point there is nothing he can do for us and has referred Sean back to our local oncologist. He said Sean's liver is functioning better then in December (probably due to the hepatitis medication) and because of this Sean could take a chemo pill. This could have a 50% chance at giving Sean 1-2years to live. It is very hard to be faced with this information. And immediately fear knocks and all the future flashes before you. Sean and I are praying about what steps to take and how to go forward. We know that we do not want to live in fear or respond and act out of fear. Much easier said then done. We know god is faithful and is for us and is the healer. We are still believing for Sean's complete healing. Something to note is that the last four days Sean has been feeling better then he has since before December. Please continue to follow this page and our http://www.gofundme.com/lalondefamily page as we will be listing our plans and needs and how you can help. Please continue to pray for each one of our family. Sean is so strong and I've really seen his faith rise up with this new information. Proverbs 29:25 The fear of human opinion disables, trusting in GOD protects you from that.
Share
---
April 21
Posted 04/22/2018 by Val Lalonde
Thank you for praying with us. I apologize that I am not the quickest at responding or making time to post. I know everyone is so understanding but I also know you care and love us and want to know how best to pray and support our family. It's hard to explain how draining this season is. How just "keeping everyone alive" is a huge task. The meals you bring, your prayers, and support mean so much. Sean had his CT scan on Thursday. We went down to Vancouver for two nights. I went to the dr office to ask what was the result from the procedure. I was told we won't hear anything till they review his scans next Thursday at their surgical rounds. So nothing we can do now but wait. Sean's pain has been way better but his energy at a zero. The trip to Vancouver took a lot out of him. Very simple tasks leave him exhausted. He's been resting a lot. Pray for his exhaustion and appetite. Pray for complete healing. Pray for our minds. I want to be attentive to hear God and not wavier in what He is saying to our family. But it is a daily struggle to stay positive and look to God for a bright blessed future. 1Peter 2:24 Christ himself carried our sins in his body to the cross, so that we might die to sin and live for righteousness. It is by his wounds that you have been healed.
Share
---
April 15
Posted 04/16/2018 by Val Lalonde
April 15 Sunday Funday. Sean's mom is visiting for the next couple of weeks and she likes to make sure Sean gets out everyday even if for an hour or so. This Sunday was packed for us. It was such a blessing to come home to a counter full of food, flowers, and treats. Again everyday I am blown away by the love and support we have in our lives. This time is so draining. Simple tasks seem like scaling a mountain. Our whole family is emotionally drained as the solid rock and support for our family (Sean) isn't able to do this at this time. All this to say, your texts of "miss you this wkn" or comments of how you pray for us everyday at 5 actually bring tears to my eyes. T H A N K Y O U ! Sean is gaining strength each day and has almost cut out his pain meds completely. P R A I S E GOD! God is using your prayers! Sean is having less pain in his liver but has very little strength or appetite. Please pray for him to gain strength Pray for sleep at night Pray for the cancer to be gone. 2samuel 7:22 This is what makes You so great Master God! There is none like you, no god but You, nothing to compare with!
Share
---
March 22
Posted 03/23/2018 by Val Lalonde
March 22 We traveled down to Vancouver on the 19. We bought a Kia rondo over the wkn that has winter tires and low kilometres. We are staying the missionary condo in Vancouver and it has been such an amazing blessing to our family. Also a huge thank to Anne and Chris McCaffery who came and have been helping with the kids. Such a blessing. Thank you everyone for your prayers love and support. Sean had a ct yesterday and his TACE procedure today. He is out and in recovery. He's in a LOT of pain. The procedure took twice as long as was expected. Everything went well as far as we know. We will talk with the doctor in the morning. They are keeping him for 24hours to make sure he does not go into liver failure. We will talk with the doctor tomorrow and hope to be heading home on Saturday. We will be coming back in a month for another CT scan to see if this procedure worked. It was a hard day for us all. The older kids are worried and the younger ones are sad that their dad is back in the hospital. This is so hard but we know God has a plan and is with us in the midst of this storm. Thank you so much for your continued support as we walk this journey. We are still believing for the impossible.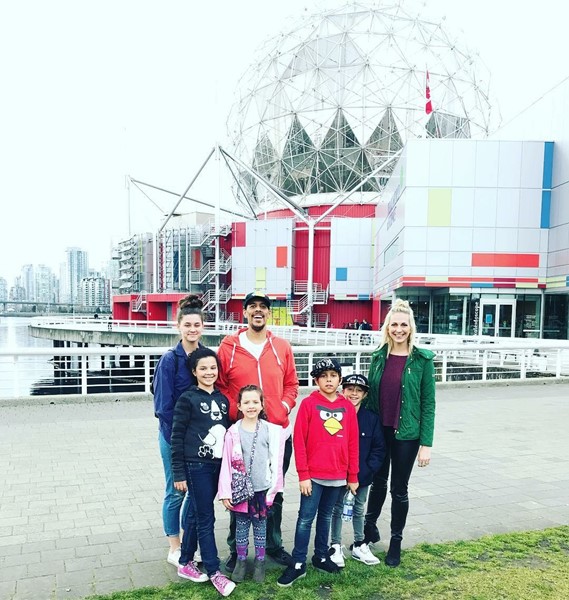 Share
---
Update from Val
Posted 03/07/2018 by Val Lalonde
March 6 Thank you so much for your continued support through this season. Every single day our family is blown away by the love and support we've received. From prayer and encouragement , to financial support, meals prepared with such love and thoughtfulness. Bringing tears to my eyes even as I type this. Thank you cannot be said enough. I have been meaning to update for the last few days. I haven't, partly because I wanted to get some more info from the doc and partly I've just been so exhausted. My throat has been a little sore so I may be a bit under the weather. Literally this snow is killing me. So today we talked with the specialist. He explained the procedure and also emphasized several times that it is risky for Sean to do. He said he wasn't sure how cleared the portal vein is and once they do this that will be the only way his liver can function. He also said his liver is in bad shape so ideally would need to have good access to the portal vein. He also said this is Sean's best shot at getting rid of the cancer and opening doors to a transplant. So here's where we go to our Heavenly Father who thought of this exact moment before the earth began. Pray for Sean's next scan to show even more improvement. Pray for the portal vein to be clear. Pray for the cancer to die. His next ct scan is March 21 and his surgery will be on March 22. All of this in Vancouver. I will be sending an update to our https://www.gofundme.com/lalondefamily page of practical ways to help if you are interested. Hebrews 11:6 No one can please God without faith, for whoever comes to God must have faith that God exists and rewards those who seek him. Thank you for standing in faith with us to believe God for the impossible.
Share
---
A Note From Val
Posted 03/01/2018 by Val Lalonde
Just wanted to write a HUGE T H ANK Y O U to every single person who has made a meal, snack, dessert, dropped off pizza, lunches, or groceries. It has been overwhelming the amazing support and love from so many. I can't really describe how helpful the meals have been. Some days I'm not sure why I'm so overwhelmed or what I've even accomplished from the day but just knowing I don't have to think about what to make has relieved so much stress and pressure. The meals have been so wonderful. The kids have loved everything and everyday get excited to "check what's in the cooler" for dinner. Nights that I've made leftovers or pancakes have become a little disappointing to them. Lol. But truly the meals have lifted their spirits and brought them joy so thank you so much. Your kindness has helped when things have seemed helpless. Thank you for loving our family. Sincerely Val Lalonde
Share
---
Val's Latest Update
Posted 02/23/2018 by Val Lalonde
Feb. 19 John 16:33 In this world you will have trial and tribulation, but be of good cheer I have overcome the world. When you are in the midst of the storm as we are right now, the biggest storm we've ever had to face it is hard to trust and believe God and what he says. I am so thankful for all your prayers and support it has made us hold onto God even when the waves are tossing us about. Today we drove down to Vancouver as a family (missing Jenna as she has a lead role in her upcoming play this week). Thank you so much Danya and Aaron who lent us their van with winter tires. The roads were terrible and the connector actually shut down for 5hrs so we had to go the long way. It was L O N G. We arrived safe and on time. Sean got his CT right away. We later met with the radiology doctor who was suppose to explain the Y90 procedure. When we met with him he started with saying he would not be going through the procedure. As the scan showed that the tumour which in the last two scans had appeared to be outside of the liver and grown into the portal vein was no longer there. He said this open ups to new and better options. But unfortunately nothing immediately and will need to be brought back to the drawing board. PRAISE BE TO JESUS. Like this is actually a miracle. We have done no medical treatments for Sean's liver cancer. 25 surgical doctors are going to re meet on Thursday and come up with a new plan. PRAY PRAY PRAY. We are believing for a transplant where Sean could get a new functioning liver! God can do this. I'm in shock but I don't know why as this is exactly what we have been praying and believing for. No wonder Jesus says oh you of little faith but then still outstretches his hand and blesses and heals. Pray for Thursday. Pray for rest for Sean tonight. He is very very tired. Pray for a safe trip back tomorrow. S I N G I N G P R A I S E S
Share
---
Added Dates
Posted 02/23/2018 by Val Lalonde
Hi Everyone sorry I haven't updated the site! I just assumed everyone would be following along on the Facebook page but realize I should have been reposting Val's updates here. So I've posted Val's latest update which was AMAZING news about Sean on this page. I've also opened up the next couple of months of meals if anyone would like to sign up again. I know Val and the family have been so thankful for all the meals and groceries and goodies everyone has dropped off. It has taken a lot of pressure off of Val and freed up energy for her to put into taking care of the kids and Sean and herself. Thanks again! Susanna
Share
---