My Upcoming Help
Here's what you've signed up for. Please view instructions for information about delivery time, drop-off location, preferences, special instructions, and more.
Meal Train
®

for David Stenshoel & Anne Gomez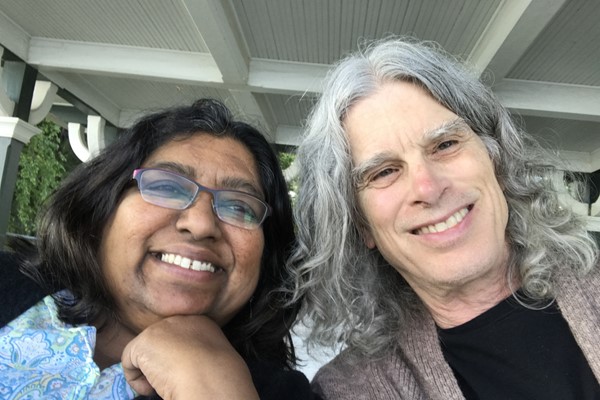 Meal Train
®

for David Stenshoel & Anne Gomez
Recipient Info
Recipient Info
Allergy or Dietary Restriction
VEGETARIAN between May 31 and Jun 7; Dairy, eggs, and tofu are OK. Need not be vegetarian afterwards
Preferred Drop-Off Time
By 11AM-1PM for lunch (or if that's the best time for you to deliver dinner); By 5-7PM for dinner
People to Cook For
1 Adult
Favorite Meals or Restaurants
Kumar's India Spice Market restaurant Gandhi Mahal/ Curry in a Hurry Peninsula Malaysian Cuisine Hong Kong Noodle Himalayan Restaurant Szechuan Thai
Least Favorite Meals
No pizza, please. Otherwise, "Not too picky," says Anne!
Special Instructions
* A cooler with ice will be available for people to drop food off * Please label with your name, date/ meal (e.g., lunch and/ or dinner), and phone number in case there's any reason to get in touch with you
Donations
Donations for David Stenshoel & Anne Gomez
Donations for David Stenshoel & Anne Gomez
Laura L Harada and Tim O'Keefe
All the love, dear Anne and Tom. What a beautiful day it was!
Sharon Doherty and Therese Cain
Kit Kreilick
Sorry to say, I only recently became aware of David's amazing breadth of musical interest and talent from his brother, Eric, a longtime friend from church choir. What a loving celebration this concert is! I am happy to support the family and such a generous community of musicians and friends.
Rose Oyamot
Sending my love to you and your family. Missing David very much. Thinking of you both and sending hugs, Anne.
Doris Wickstrom
David lived a beautiful life. He will be missed by many. Thinking of you and Tom in your time of sorrow. Hugs to you both.
Linda Littleton
I didn't know David well but sure enjoyed jamming with him online.
Wendi Storhoff
My sympathy to you, Anne.
S and B Barnes
Thinking of you and sending love.
Bernardine (Dine) Watson
For my friend David and his wife Anne
Jim Plattes
David and Anne
Lydia Olchoff
Love and BIG hugs to you, David and Anne
Natalie Nowytski & Scott Keever
We love you!
Tom Cornish
Keeping you in my thoughts.
Joe Shalita
Brothers yesterday, today and eternity.
Kristine Lekander
Sending love from Norway
Linda Littrell
These precious days, sending love
Sonja Quanbeck
Thinking of you both everyday
Tracie Anderson
This one is for BIRTHDAY sweets and treats for Anne (you can share, David!)
Mahi and Matt
I have defining Minneapolis memories with you. Thank you.
Margo Abdo O'Dell
Sending huge hugs and a whole lotta love!!!
Chiharu & Tim Mikkelson
sending you LOVE
Daniel A Newton
Sending lots of love and comforting energy your way.
Cathy Camper
Sending hope and strength!
Hawona Sullivan Janzen and Mark Janzen
Sending you love and strength for the journey.
Mélina & Sameer Mangal
With love and hope
Sandra Hong
Sending you love
Jack and Brenda Sielaff
We're thinking about you during this tough year.
Tracy Nielsen
Love to you both
Brian Kao and Clara Wong
With our love
Jenny Staben
I so wish I were closer but sending thoughts of healing and comfort in both your directions.
Cheryl Ekstrum
Sending warm wishes for swift healing
Joe and kathy
Love and healthy thoughts
Matthew L. Senjem
Thinking of you both and sending healing vibes.
Audrey L. Kingstrom
Just learned of your ordeal. Sending lots of love and healing thoughts! Wishing you a speedy and complete recovery!
Christine and Steve Wold
Thinking of you both, and sending positivity your way. Be well, Christine and Steve
Amy Dillahunt
Sending you healing vibes and tons of love--Amy and Dean
Bruce & Cindy Hanson
praying for you!
MJ Mueller
Sending love and wishes for a full and swift recovery
Sarah Larson
Lots of love to you both.
Scott Nieman
Get well so we can play music again! In Person!!
Chris Chookiatsirichai
Wishing you a full and strong recovery! Sending you healing, love and positivity!💚✨
Kassira Absar
Sending both of you love. And I wish you all the rest and healing.
Peter Stenshoel
Hang in there, David! We're cheering you on.
Laura Harada and Tim O'Keefe
You both are obviously so loved by so many! What a gift! We're sending lots of love and strength and quick healing vibes your way!
Jill Stefansen
Wishing you the very best outcome, and strength to you both!
Priscilla Thomas
All my best wishes to you both ❤️
Mahati Chintapalli
Sending love and healing! Wishing a smooth and full recovery!
Sonja Quanbeck
Continue the good fight!
Roshani Saraiya
Sending lots of healing thoughts your way!
Mike Tietz
Stay strong - wishing you all the best!
Edward Tucker
Our thoughts and prayers are with you.
Brian Pratt
Take care of the care taker!
Leonard Su
Speedy recovery, best wishes, and lots of love and music to you David and Anne!
Heather Townsend
Much love
Steve
Hope and love brother
Joseph V Gonzales
Please take care and sending loads of love
Jeanie and Drew
Food is love and life.
Bruce J Hanson
Praying for your successful surgery and recovery.
Hussein Ahmed
Wishing you a speedy recovery David.
Yigitcan Eryaman
Wishing you health and a long life full of music !
Cecilia
Thoughts and prayers with you
Esther
Prayers for comfort and healing.
Give a Gift Card
Provide a meal gift card for David Stenshoel & Anne Gomez.
Meal Calendar
Volunteer to provide a meal.