Updates
Trying to keep the spirits up.
Posted Apr 14, 2018 by Debra Rosenzweig
I'm back home. Hallelujah. And I love my house. I wish I were happier but not being able to do anything is even harder here. If someone leaves a pair of socks laying in the corner of my bedroom it will take me 10 minutes to haul myself up, take the walker over to the corner, do a gymnastic move to bend down and pick them up on one leg, and then I have to hold them with my teeth while I hop to the closet so I can put it in the hamper. Then I hop back to bed completely winded. Grandpa Kenji is here to help and he is wonderful. And my sister is coming from LA after he leaves on monday. Does anyone know of a way to get her here from Bradley at 530am on Monday? Thomas' taxi service costs $240 each way! If anyone knows someone who would be willing to do the drive for much less than that, please send them my way. And last but not least, I made it to the school play. It was MAGNIFICENT! It took everything I had to get over there but I got to see this: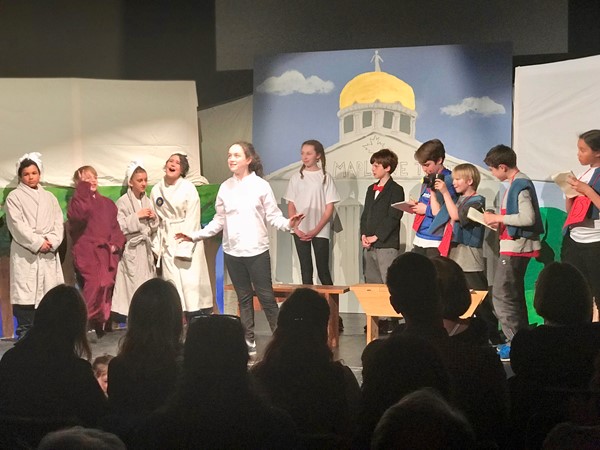 Share
---
3 more hours and I will be home from rehab!
Posted Apr 11, 2018 by Debra Rosenzweig
A special shout out to Dan Deitz for being by my side this WHOLE time. He is coming to get me at 10 and those steps to get into my house are toast.
Share
---
4 steps down and I need to get out of here.
Posted Apr 10, 2018 by Debra Rosenzweig
I am going bananas. Not as bananas as this bunch visiting me here tho. Last night, Karen brought a home made sushi fest and Cyrus brought his guitar and sang songs to cheer me up. I felt happy. Until they left. I'm calling the social worker today and begging to be released and I will make it up those 7 steps today no matter what. I know you are all rooting for me. I'm so grateful. And if I haven't mentioned or posted the meals you made or the kind visits, or all the rides for the girls, or the garden help, and the loans of crutches and medical stuff, and all the picking things up for me, it is only because I don't want to be overwhelming with too many emails. I would not be getting through this without you all, such an amazing community. Thank you!!!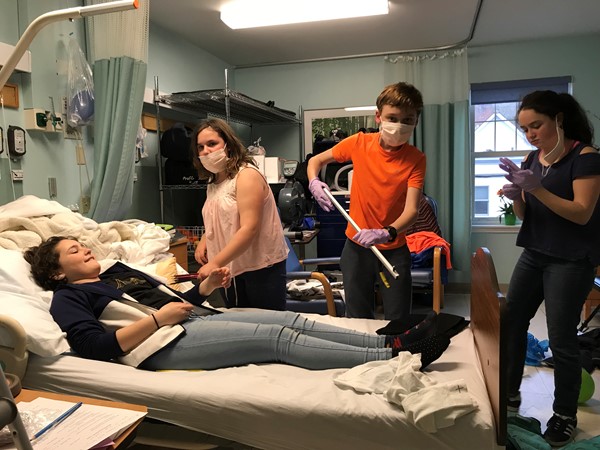 Share
---
Shoshi Woshi
Posted Apr 7, 2018 by Debra Rosenzweig
Thank you for asking about me and wanting updates on my progress. The PT here at Grace Cottage is fantastic and I am coming along fast now. Yesterday I managed my first stair step with the crutches. I was scared to try as I am still a bit unstable but I did it! I need to do 7 of those to get into my house. My goal is by Thursday. I need to get out of here and go see Ava and Shoshana in their school play. Shoshana made this for my wall. It makes me so happy to look at it. ~Debra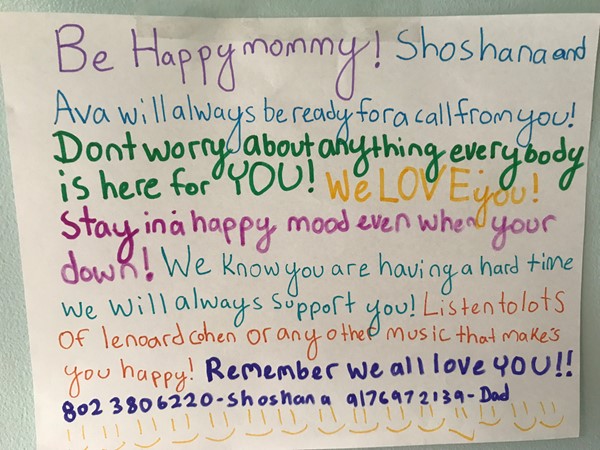 Share
---
Thank you Lady Z.
Posted Apr 5, 2018 by Debra Rosenzweig
I am posting pics of the delicious honey chicken meal Rachel Zamore made here. Thank you Rachel. And I want to mention that there have been so many people to thank. I have received so much from all of you who have helped me and the girls during this horrible time. Whether it is with a ride to school, $, picking up a walker, painting my toes or coming to visit me and tell me stories of the outside world, I am rejuvenated by your reaching out. Each moment of knowing you are caring about me has lifted my spirits immensely. Thank you! In terms of my recovery - my leg until now has felt like a big bag of sand. The muscles had been so cut and torn and jostled during the surgery that I haven't had any ability to move it whatsoever without extreme pain. But over the last few days I have been making progress. My leg is now more like a bag of compost - still hard to move but with way more potential for healthy growth. I'm working hard on rebuilding those muscles and hoping to be out of rehab in a week or so. Will keep you posted.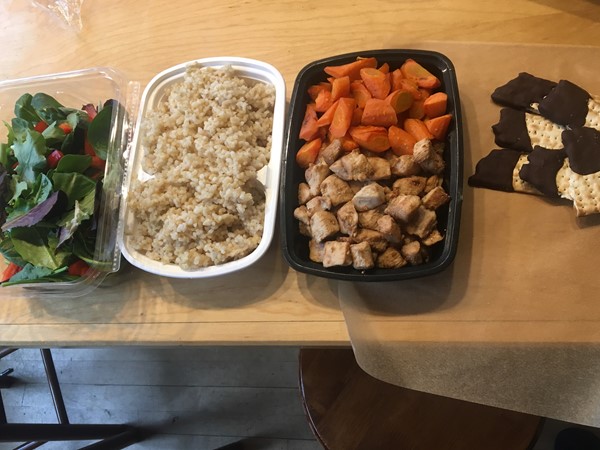 Share
---
Jon Secrest!
Posted Apr 3, 2018 by Debra Rosenzweig
The cookies were extra appreciated.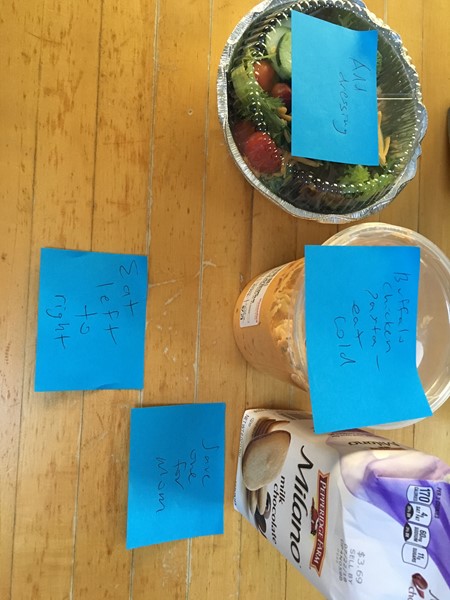 Share
---
Yummy Tacos from Sadie and Lady Evelyn on Sunday
Posted Apr 3, 2018 by Debra Rosenzweig
And a bonus visit! That was a treat
Share
---
Matt Blau made broccoli and chicken wiggle and salad.
Posted Mar 27, 2018 by Debra Rosenzweig
Girls loved it and had it for lunch today too! Thank you!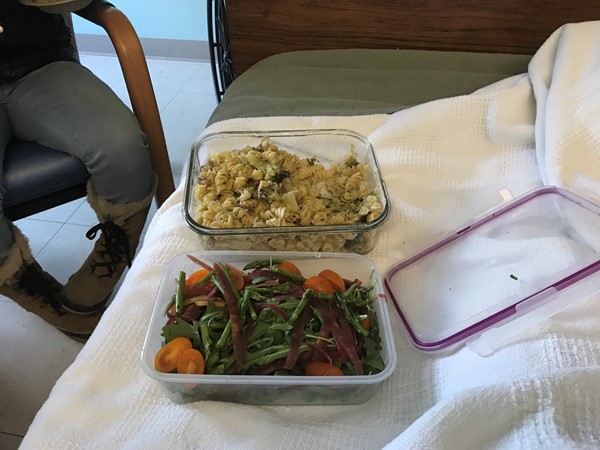 Share
---
A delicious meal from Erin Maile O'Keefe
Posted Mar 27, 2018 by Debra Rosenzweig
Thank you Erin!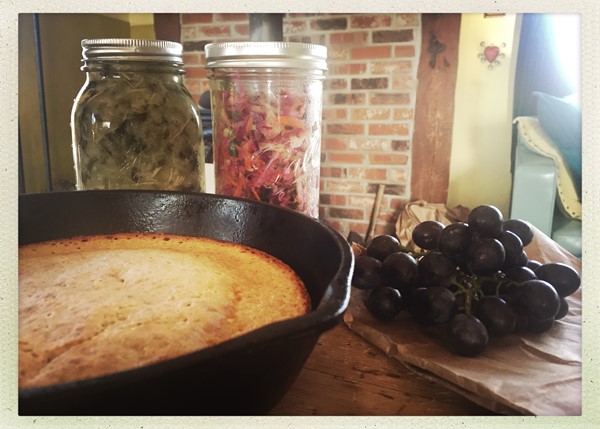 Share
---
Meal Train Plus
Posted Mar 27, 2018 by Karen Blumberg
Good Morning, For those of you who did not receive a notice (I am hearing that many of you did not) Meal Train has been upgraded to meal Train Plus. What does that mean? Now you can volunteer for other opportunities to help, such as rides for Ava and Shoshana, play dates for the girl's, errands, grocery shopping etc. As always, thank you so much for your care and your support. YOU ROCK! Cheers, Karen
Share
---