Updates
Happy Thanksgiving!!
Posted Nov 27, 2020 by Jeanne Nindl
Ok I just finished crying the happiest tears; I was in the living room area of our room when Cooper comes walking past me all by himself!!!!! For the 2nd time in a month I felt like you could have knocked me over with a feather. The past 2 days have been his first pain free days and he has seemed so strong so it shouldn't have been a surprise. Brad, Cooper and I had a very nice traditional Thanksgiving with Turkey, ham, mashed potatoes, corn, and rolls too. We went for a walk and visited with our family through Group FaceTime and were able to visit with some neighbors too. This Thanksgiving we literally feel like we are thankful for everything and everyone!! Our family, PIne Richland, Gibsonia, Treesdale, Oak Park friends, neighbors and people we are yet to know, the Northern Regional Police Department, local businesses, friends and family of friends, co-workers of family and friends, our PRYBSA family and friends, Pitt family and friends, UPMC employees, St Jude employees, anyone with a friendly face, the families of kids who have had similar experiences that opened their hearts and shared their stories!! We will never forget the support we have received and will always want to reflect and share the same support and kindness with others!! We wish that everyone else had as memorable a Thanksgiving with such happy moments!
Share
---
Strength during twists and turns
Posted Nov 23, 2020 by Jeanne Nindl
This path forward is not going to be straight and easy. There are a ton of bumps, twists, and turns we are facing daily. We are no sooner excited about a path or positive outcome when we get hit with another obstacle. (Another surgery at the local Children's Hospital by a fantastic neurosurgeon happened this weekend but we are back and seem to be no worse for the wear) Cooper has been able to meet them all but it's totally unfair how much he has had to go through and the battles he'll have before him. So much is invisible to us that we just will not know until we know. You may not know I enjoy my swear words at times and I do feel like yelling 2020 sucks and so does Cancer but there are more times that I'm so happy and appreciative of the little things! Thanks for sharing your strength, reminding us of ours and Cooper's too!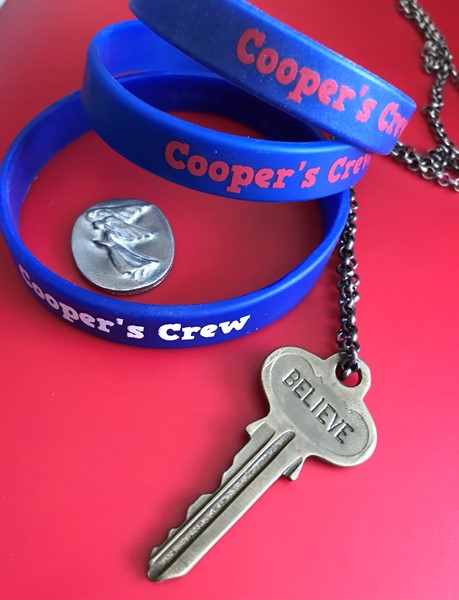 Share
---
1st Day of No Appointments = Family Fun
Posted Nov 15, 2020 by Jeanne Nindl
Yesterday was Cooper's 1st day with no appointments since being in Memphis so we decided to take advantage of this and the weather and head to the zoo! It was so nice! Originally we had no appointments on Monday but now we are packed full as midweek we'll be starting to receive what was described to Cooper as "invisible medicine" - radiation. So hopeful the "invisible medicine" can follow the Patriot way and do its job!! ❤️💙
Share
---
Peace of Mind in PA and TN
Posted Nov 12, 2020 by Jeanne Nindl
It brings such Peace of mind to hear from our friends and community supporting Cooper and our family back at home. (We've been able to share your individual video messages and a really cool Group YouTube video that our friends at Pitt put together!!) In TN, we were over joyed to learn Cooper will not need an additional surgery before radiation and chemotherapy. We can't express how much it means that Cooper's siblings are being taken care of with their social, emotional and health being considered. It makes it a lot easier to be here and be present for all our appointments and any down time; which there hasn't been a ton of. However, this afternoon Brad, Cooper and I actually enjoyed playing Farkle and Hangman. I wouldn't have been any happier even if I hadn't been the winner. 😊 Wishing you all peace and love! ❤️💙
Share
---
Busy and Appreciative
Posted Nov 11, 2020 by Jeanne Nindl
Wow! We have been so busy since arriving here at St. Jude. We have had lots of appointments and tests. We have been so in awe of how Cooper has been handling it all and so nonchalantly. We would have thought it was just us until today when he had a 2 hour MRI and chose to have it done without sedation. He was absolutely sure he could spend the entire time without moving (if he hadn't we would have delayed our entire day tomorrow and mess up our schedule which is a crazy puzzle as it is). Upon completion, the team presented him with a poster saying Way to Go and then his nurse practitioner told us he was the youngest patient she ever had that was able to do that!! We have been very happy here and have enjoyed being able to walk to and from our appointments to our room each day. We also continue to be in awe of the outreach and support through acts, gifts and gestures from all of you! Thank you, thank you, and thank you.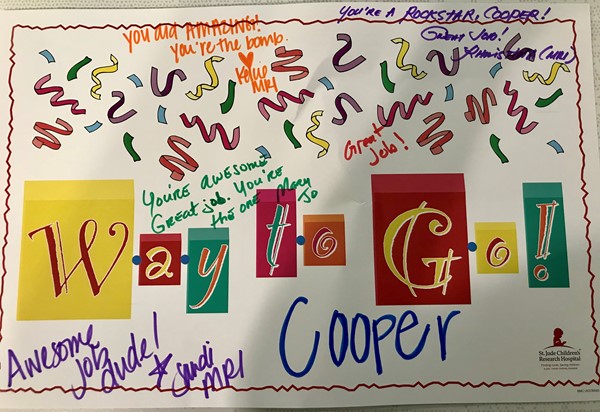 Share
---
Memphis Arrival
Posted Nov 8, 2020 by Jeanne Nindl
We made it to Memphis! Sigh of relief!! Traveling went well and all the transportation helpers with the wheelchair were so good and got us through the airport and on and off planes without much hassle. We asked our shuttle driver about Memphis and she shared the 2 highlights are Elvis and the Bass Pro Shop. 🤣 Stay tuned. Thanks for your prayers, positivity and support!! ❤️💙 💕
Share
---
Time to Rest and rejuvenate at home
Posted Nov 6, 2020 by Jeanne Nindl
Yesterday evening we were able to come home from the hospital so that Cooper could rest and rejuvenate with his siblings and family. Within 5 minutes of being home we were so pleased with our decision!! The last 10 days were a whirlwind, roller coaster with lots of thinking and decisions. It is so nice to come to peace with your decision and be happy to be heading this weekend to St. Judes! We can't express how thankful we are to all of you who are reading this update, those who have supported our family that were in our home, those that smiled at us when we cried tears of fear, sadness, and joy, all the neurosurgeons, doctors, radiologists, technicians, therapists, nurses, aides, maintenance, receptionists, food service workers and just everyone at UPMC! Let's go! With love ❤️ 💙 !!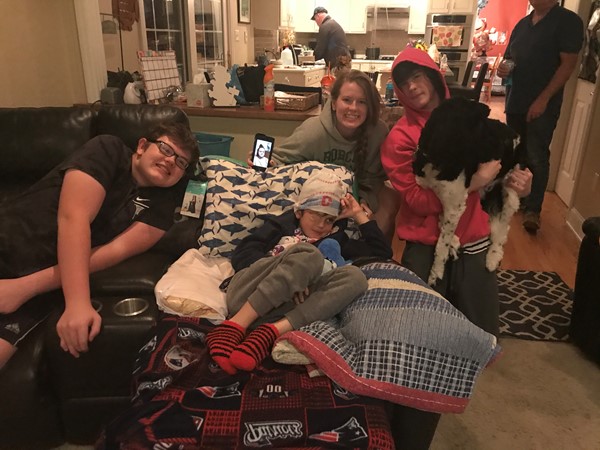 Share
---
Mission Recovery
Posted Nov 2, 2020 by Jeanne Nindl
These last couple of days it's all about the mission of recovery for Cooper from surgery getting stronger, eating more and doing more. The rest of us (surgeons, doctors, nurses, therapists, mom and dad) is the mission of managing his pain to aid in recovery. This morning I was talking with Cooper and letting him know how hard he is working and likely doesn't realize it. We are beyond excited and full of pride every time he sits up, holds his head straight, stands up, tosses a ball, shoots his nerf gun, and eats! He's making us nervous at times the ways he throws himself into starting moving on his own and how fast he does it. Also his strength to block and push away medicines, spoons, and hands in the middle of the night has been impressive too. The nurses and doctors mention frequently that he must have been very athletic and active before coming here. I always say they can't imagine!
Share
---
Positive Steps Continue
Posted Oct 31, 2020 by Jeanne Nindl
Happy Halloween! Not our typical Trick or Treating day. First the Tricks - Cooper continued to make strides sitting up and standing. He took time to use his nerf gun to aim at his Dad, his neurosurgeon, and Captain America's balloon shield (he hit them all 😂). Treats - he started the day eating puréed French toast ( that should be under the tricks) and finished with Dairy Queen Oreo Blizzard and Panera mac n cheese. I had the opportunity to spend time at home and truly appreciate our neighbors and family again. So many kind gestures and support. Topped off by the crew, I'll call Cooper's Trooper's, who were walking through the hood attaching red and blue Balloons 🎈 Power of Positivity!!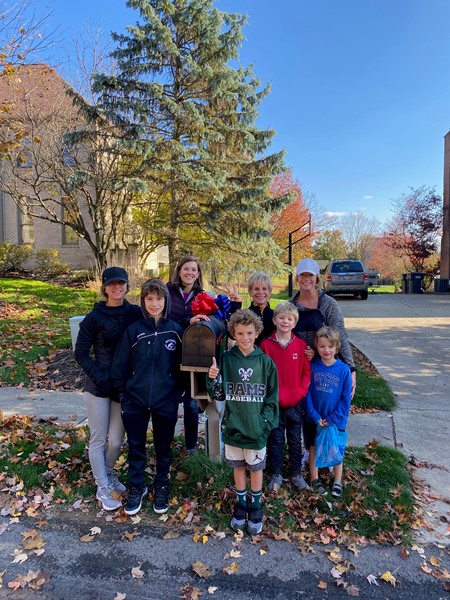 Share
---
Hanging in There
Posted Oct 30, 2020 by Jeanne Nindl
Thanks Oak Park friends! We all know there was a lot of monkey business in the hood. 🍌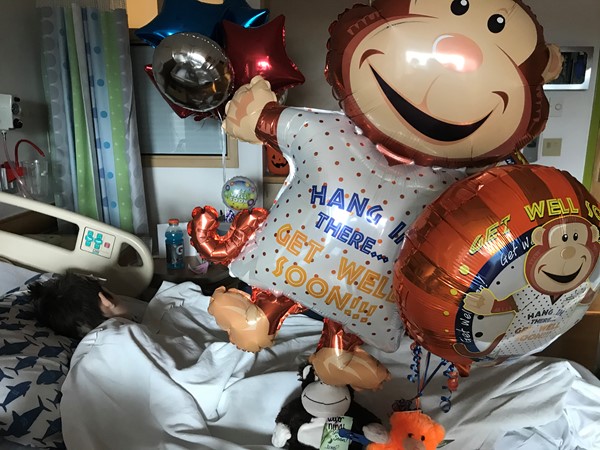 Share
---
Cooper' out of the ICU
Posted Oct 30, 2020 by Jeanne Nindl
Thanks everyone for your support last evening Cooper was able to leave the ICU. 🤩. We were told to expect another day or two there but the surgeons were so pleased with how his body was handling the surgery he was released to the pediatric floor. Now we all get to focus on his 1b step recovery from the surgery. I had a chance to stop home yesterday to be with our family and was so happy to see them all and hear their stories of the support and love they've been receiving from you all!! 💕 Also just knowing that there is this group thinking, praying and sending positive vibes for Cooper gives us strength and hope! He has been fearless! Thank you! Thank you! Thank you!!
Share
---