Updates
Donation button now live!
Posted Jun 11, 2020 by Laura Stukel
It's our last big push! Please help us send at least 2 more meals to the amazing team at Bridgeway Senior Living. They continue to work non-stop to protect patients. Let's give them a huge THANK YOU in honor of CNA Week. If you can cover a date on the calendar that would be amazing! Or if you prefer to donate we will use funds to purchase from a local restuaurant. (See 'Donations' on left-hand column.) Are you with a restaurant? - Let me know if you can match our funds to make these meals possible and we're happy to work together!
Share
---
June dates now available! Please help!
Posted May 27, 2020 by Laura Stukel
The June calendar is now open for the Meal Train for Bridgeway Senior Living. Please help us say thanks to frontline heros, and support local restaurants by sending a shift a meal.
Share
---
It's the 200th Birthday of Florence Nightengale - Let's send LOVE to our nurses
Posted May 6, 2020 by Laura Stukel
Hi all. Today kicks off Nurses Week and May is Nurses Month. Let's show nurses everywhere that we care for them, especially in this milestone year of the 200th anniversary of Florence Nightengale's birth. Some easy things you can do: - Send another meal to Bridgeway. Too many May dates are still available! - Donate to our Facebook fundraiser and we'll send meals for you. (GoFundMe coming soon. Email me for info!) On Facebook, search for Nurses2020ChicagoSuburbs to find the fundraiser. - SHARE this meal train! We need all the help we can get! - Contact me if you have goodies to share (like candy, gum, hand cream in sets of 25. We will manage contact-free to get them to our nurses!) - Contact me if you have access to PPE to keep these nurses safe. While you are at it, we've adopted another nursing home! - Elevate Care in Niles. Please share with any friends there, Park Ridge, Glenview, etc. From the Meal Train page change the end text to this --> trains/8g4wz5 <-- to visit the Elevate meal train. (Sorry, not able to share links in this email.) We've started a page to celebrate nurses and share resources that can support them during this crisis. Please visit, like and share! On Facebook search for Nurses2020ChicagoSuburbs to find the page.
Share
---
May dates now available - please spread the word!
Posted Apr 23, 2020 by Laura Stukel
Thanks for all the support of Bridgeway so far. The team is so incredibly grateful. Healthy nursing homes are so essential to getting ahead of this virus. Calendar through May 30 has been added given the Governor's extension today. We still need a lot of help to get the word out. If you can share our calendar we'd really, really appreciate it! We'd like to get meals to Bridgeway at least 3-4 times per week, alternating between the shifts. If you can share this with groups of neighbors, families, clubs or church organizations who can go in on a shift meal we would be very grateful. Be sure to check the 'updates' tab of the Meal Train to see a list of restaurants who deliver to Bridgeway and/or are offering special menus or support your favorite local restaurant! Thanks and best wishes, on behalf of the Nursing, Housekeeping, Laundry and Security Team at Bridgeway
Share
---
Restaurant Tips
Posted Apr 21, 2020 by Laura Stukel
Hello all. Thanks so much for supporting the Meal Train effort at Bridgeway. We had a great week of meals this week but definitely need help looking through the rest of April. State is now predicting the peak could be coming in May. Any support we can give to nursing home helps protect the most vulnerable. Thanks for your continued support! I'd like to share in this message some of the great notes I've received from restaurants who are supporting the Meal Train effort and either have special deals for Bridgeway or have confirmed Bensenville delivery. (If you are with a restaurant or know of one I have missed please share more info with me at laurars@usa.com and I'll send in another update.) Contact these folks and mention you are with a COVID MEAL TRAIN. - Corky's Catering (Addison) - Sam Rovik: Can do a special delivery fresh for overnight crew - Johnny B's (Addison) 630-780-7680 - Firehouse subs (Wheaton) - Ask for Hamida Tejany and ask for discount + free delivery. (630)-440-4681. Basic 'Lieutenant boxes' $7.49 each or 1/2 sandwich platters $4.90 each - Chef's on the Go Go - Gourmet chicken fried sandwiches. Ask for Polly. https://www.chefsonthegogo.com/ - Alonti Catering - Hope Tinucci, htinucci@alonti.com. See online menu. Thanks to Righteous Kitchen (customers donated two meals!), Tomato's Pizza, Angelo's Restaurant, Jason's Deli, Yorkies, and Mama Maria's who have all done deliveries so far.
Share
---
Keep those meal trains coming!
Posted Apr 16, 2020 by Laura Stukel
Thanks to everyone who has supported Bridgeway so far. Last night a group of neighbors on Washington Street in Elmhurst send 'Greek Night' dinner from Yorkies and overnight crew had sandwiches from Jason's deli. They've had a really rough week so your support is extra special. The rest of the April calendar is open so please share with your friends! Many, many thanks on behalf of the team at Bridgeway.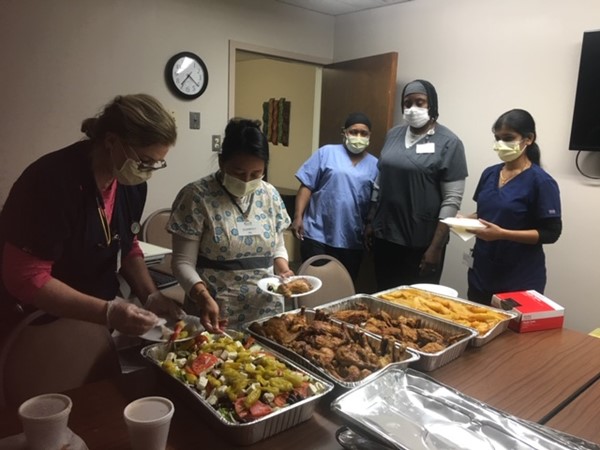 Share
---
Thank You + Please share our meal train
Posted Apr 5, 2020 by Laura Stukel
Hi. The first meals have been coming in and the crew at Bridgeway is so appreciative! It really makes a difference and gives the team a motivation and nutrition break. They are working really hard and keeping all the patients safe there. Thanks for supporting them! You can see the smiles under those masks. We are trying to make sure each shift gets at least one meal delivery per week through the month of April. Lots of sign ups still open. Please share with anyone who can help. Or go in as a group to make it happen. https://www.mealtrain.com/trains/8gygv4 A few questions we've received: - Right now food does not need to be individually packaged; so catering pans or platters will work (like a tray of salad, etc.) - If utensils are provided by the caterer please include; but the team can pull necessary items from their kitchen so no need to add if it is an additional catering expense Thanks!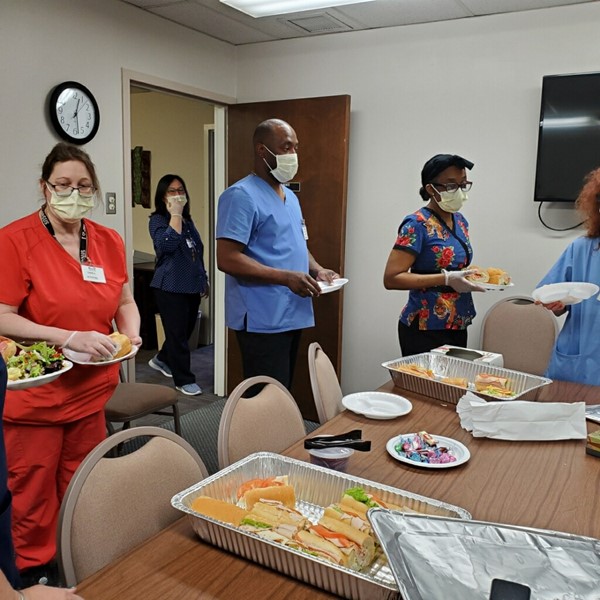 Share
---
Thanks + Instructions for 7 pm deliveries
Posted Apr 2, 2020 by Laura Stukel
Hello all. Thanks for the support for Bridgeway so far! Just a note for 7 pm deliveries (instructions have been updated on the page too). FOR 7 PM ONLY - If you want to split into two deliveries/orders ... Please send 25 meals for 2nd shift PLUS 15 meals to hold for overnight shift. So for example, something hot for 25 + 15 sandwiches for overnight crew. This is a great option if you want to go in on the delivery with a friend. One friend can deliver something for 25, partner can deliver something that they can store for overnight. BOTH DELIVERIES AT 7 pm. Please make sure overall delivery is for 35-40. Thanks!
Share
---