Updates
July
Posted Jun 23, 2021 by Thomas Ennis of Troy Ennis
Hello Everyone, we have added a few dates to July. We appreciate the kindness you have provided our family these past few months. Thank you, Tom E.
Share
---
An update on Troy from Samantha
Posted Jun 20, 2021 by Tami McGraw
Today by Samantha Ennis, Organizer *****6/20/2021***** Hi everyone, Quick update on Troy today. He has spent the last week recovering from his 5-day treatment, which has mostly consisted of a lot of food and sleep. He went in to have some blood work done on Tuesday, which came back well enough that he didn't need a transfusion. He has also been hanging out with his friends, getting a little bit of normalcy amongst all the daily crazy. This upcoming week Troy will have his 2-day treatment, and we are hoping that they will let him do this at home. In other news, I would like to wish everyone a happy Father's Day! My dad has been the primary caretaker for Troy as we go through all of this, and I cannot explain to you all how amazing he has been. He is a rock, steady and unchanging when everything around us is in upheaval. We are so grateful to have him, even if we are not always the best at showing that gratitude. Thank you dad! Lastly, I have a fun thing to end this update with. Troy has been nominated for the WRAL Stuart Scott Courage Award! It is an award meant for high school kids going through adversity and facing it head on, which as you all know is exactly what Troy is doing. We are not sure if there is a prize or if it is just an acknowledgement, but either way it would be fun to watch Troy win. The news station has already interviewed him about his story, and it will be aired on July 22nd with all the other nominees. If you would like to vote, I am going to attach the link at the bottom. You may have to copy and paste it as I'm not sure that it will work through this website. When you go into the website to vote, there should also be a place to register in order to watch the segment when it airs. Happy voting! Link: https://wral5.secondstreetapp.com/2020-21-HighSchoolOT-Honors/gallery/287619239/
Share
---
The latest update on Troy
Posted Jun 10, 2021 by Tami McGraw
Thank you for providing a meal or two for the Ennis Family! They really appreciate it! I asked if Troy had any special requests. He would love some spicy and flavorful foods. The chemo is altering how things taste. We are bringing Louisiana Gumbo on Monday. 😀 Thank you, again, for your help! TODAY by Samantha Ennis, Organizer *****6/10/2021***** Hi all, Troy is on day four of this 5-day inpatient treatment cycle. He had a little bit of a later start on Monday as the care team addressed some minor bleeding that occurred over the weekend. It's all straightened out now and they've put a plan in place to reduced the chance of recurrence. We can't thank the doctors and care team enough for how they approach Troy's care, everyone at UNC Children's are truly the best and brightest. As we near the end of this chemo cycle, Troy is really feeling the nausea and tiredness again. This will probably get worse as he finishes this treatment before he begins to feel a little better sometime next week. On the bright side, as his body gets more used to the chemo and the care team figures out how he responds to the various treatments, they have gotten much more efficient at heading off the worst of the symptoms. At the end of next week Troy will complete his second month of treatment. We are encouraged that he can feel a lot less pain in the tumor site, and the indications are that the chemo is having a positive effect. Sometime within the next month of treatment the doctors will redo all of Troy's major scans to determine how the treatment is working throughout the rest of his body. These scans will guide the next phase of Troy's treatment, including adding radiation or anything else that may be needed. At the moment we are just focusing on each day, and trying our best to keep Troy comfortable and in good spirits. The community help has truly astounded us-from the thoughtful meals that have been provided, to the school support from teachers, coaches, trainers and classmates. All of these people, along with his friends and family, have stepped up to show Troy (and us) the love that surrounds him. It is humbling and we are thankful. Thank you all!
Share
---
Outpatient chemo
Posted May 27, 2021 by Tami McGraw
TODAY by Samantha Ennis, Organizer *****5/26/2021***** Hi everyone, Troy was able to do his first outpatient chemo treatment this week. This process involved going to the clinic Monday and Tuesday morning, where they administered the chemo and then allowed him to take the recovery drugs and fluids at home. He got to sleep in his own bed each night, which made this week considerably less stressful than past treatments. The nausea was better, and the pain in his leg is now under control. The treatment seems to be having an effect on the tumor, which is helping to keep the swelling down. We are thankful that the outpatient process went smoothly, and we anticipate being able to do chemo this way once or twice a month. As always, thank you all for your thoughts, prayers, and donations. For those of you who feel like you would like to help in other ways, one of the parents from Troy's football team has set up a meal train. Meals are delivered every other day, and anyone is welcome to sign up! Here is the link: https://www.mealtrain.com/trains/d1n10l
Share
---
Update on Troy
Posted Apr 30, 2021 by Tami McGraw
*the family is very thankful for the meals that are being provided. Thank you!-Tami Update: week one of chemo is turning out to be zero fun. It's interesting how they try to tell you just how awful it is, and as you hear them your logical brain says yeah, I get it. But then, as it happens, you realize nothing has prepared you for how truly awful this is. The meds taste weird, the fluid push is like a flood, then the incredible bouts of nausea just roll over like thunderclouds. It's more than you expected and indescribable in its awfulness. Troy has been handling it all like a champ. Big smile, cheeky attitude, and determination to win the day. Every one of his nurses have been sincerely the nicest people, the hospital is well run, and the care he's getting is top notch. The plan for today is to finish up his hydration, and get home in the afternoon to rest and recover. He gets next week off, just a clinic visit for blood work then doesn't return for the week until the following Monday. Keep him in your thoughts. We appreciate the support! Tom Ennis
Share
---
Today's update.
Posted Apr 27, 2021 by Tami McGraw
TODAY by Samantha Ennis, Organizer *****4/26/2021***** Hey everybody, I just wanted to let you all know our most recent piece of news. Troy had his PET scan today, and it revealed Ewing's in one of the vertebrae in his spine. This will not change the course of his treatment, it will just be one more place that they focus on during radiation. The doctors also gave Troy an echocardiogram in order to get a baseline for his heart. After all this, Troy was admitted to the hospital and given his first chemo treatment. He is resting now and has voiced the idea of shaving his head this weekend. I'll try to update with a picture if that is what he decides to do. Thank you all for your support so far, it has been amazing. Troy's journey has only now truly begun, and I am asking that you all keep him and my family in your thoughts and prayers as we start this battle.
Share
---
A gift from Coach Homolka and the team
Posted Apr 22, 2021 by Tami McGraw
The team signed a shirt and helmet for Troy.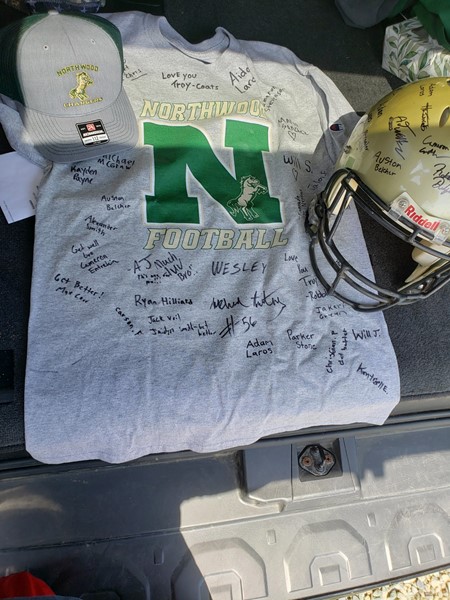 Share
---
Update from Troy's Dad
Posted Apr 19, 2021 by Tami McGraw
Troy is healing well from his recent surgery. Some pain issues but nothing like it was. He has a fairly aggressive treatment plan in place. He will be doing one week on, one week off for the next 9 months or so. It's the gold standard for Ewing's Sarcoma, with the highest success rate. He is starting his first round of chemo this Thursday at UNC Children's Hospital Oncology Ward.
Share
---
I added the 24th I will bring wings!
Posted Apr 16, 2021 by Tami McGraw
I will bring wings that day
Share
---