Updates
Little update ...
Posted Feb 24, 2021 by Stacie Buechel
Hello Everyone! I am feeling great! Appetite is way up - eating everything you bring to me on the meal train! We are super happy I am so hungry, a real sign of healing. I did get a little cold over the weekend, we confirmed it is not Covid, but I was due to start a daily oral chemo for the sarcoma tumors. I am waiting just until the cough gets a little better. Then I will start daily at home chemotherapy in tandem with the Kaytruda. Please pray I handle the chemo well, I feel so much better, I want to stay this course. Rhonda made some adjustments to the meal train. We don't want to waste food, most of the time we are just fine on lunch. If you want to bring us something yummy, just text me at 858-663-4646. But, since I am so much better lunches are easy. Dinners are still when I grow tired and sore. So, we cut down two nights a week so we can have left overs. Rob isn't participating in the meal train anymore. So, you are welcome to communicate directly with me at 858-663-4646. Text is easiest. I do answer my phone most of the time, unless I am resting or on the other line. Some of you asked the best way to help. Donations are still really valuable because I am not working and I support myself and children. I like to share my goals because I like to believe it gives this positive energy towards it happening! I am ever hopeful after scans in March, we see that the Kaytruda is working and I am back at work by summer. Keep thinking positive - that is my goal to be back at work by June 15. Much Love to All, Stacie
Share
---
Angels amongst us ...
Posted Feb 18, 2021 by Stacie Buechel
I always knew I had a lot of really nice friends! But, I didn't know how many angels live quietly amongst us. People who will go out of their way for you - literally during Covid make an appointment at a blood bank to see if they have this ridiculously rare blood like I do! I think as of today we reached the 1,000 donor mark - yes you read that right. A thousand people disrupted their lives to try to make my life better. Clearly, many, many of these incredible people I don't even know. And, on top of these angels who donate blood, I get donations, meals, and LOVE notes that are filled with hope, inspiration, and stories about their own cancer hurdles. THANK YOU SO MUCH ANGELS! You keep me going on a daily basis. And, I always have to keep a shout out to people who go STUN me with their generosity of TIME or resources. Kyle Kraska is one of the nicest, truly helpful people I have ever met, my friend Diana schedules me check-ins to make sure I am okay daily, my friends Rhonda and Cami literally stepped into run my business as I rest, my friend Lana would helps with my daughter at a moments notice, Nancy Philips organized the entire blood drive, my friends Cindy and Elif are always available to make sure I have a driver to the doctor and as my husband disappears, my friend Chelsea drives down each weekend to stay with me! Finally, my team at UCSD is always there for me. And, you know why I believe I can overcome this because I have so much love in my life! I transfer this love into hope, and I am going to transfer that hope into remission! I am feeling so much better. The kaytruda is working! I know it is working because tumors I could feel pressing through my skin I no longer can feel. I have a drain in my lungs and that drain is barely producing any liquid, which means my lungs are healing. I had to cut my home nurse back to less visits! I pray, pray that this drug is inside my body doing its work on those pesky tumors. I start an oral chemo Monday that I take daily at home, hoping the side effects are not too rough. Cancer hurts, it hurts more than I ever imagined, but with all of this love I can keep going. Thanks angels! Thanks for lifting myself and my three children up in your love. I can't wait to recover, get back to being a normal mom, back at Essbee, and with new faith in my community. I can't wait to do what all of you do for others - you have really inspired me to be a better person! All my love - Stacie
Share
---
A little mixture of news ...
Posted Feb 11, 2021 by Stacie Buechel
Wow! Kyle Kraska of News 8 reached out to me to help us get blood donors! Can you believe how many people have donated blood to the San Diego and surrounding blood banks? I think we are nearing the 700 mark! I need to do my research and I bet you can find it on Nancy Phillips (my media star friends) facebook page, but Kyle is trying to get even more people to donate blood. I believe his story will be on Chanel 8 TONIGHT, I will see if I can post it. He so generously asked me for an interview and if he does a follow up story, I promise I will get on and have a super chat with him. I am just still recovering from my most recent hospital visit and I am skiiinnnnyyyyy .... Most importantly though is that right now, I have no blood in my reserves. :( So, if you are A+ or the O blood type - please go donate. You might just be special like me and missing that enzyme. For those of you who donate and are not a match - you are doing someone a BIG deal. I walk through the chemo lounges and see so many people young and old getting blood. During Covid we need blood more than ever. Thanks to all of you! You are a big part of our community - love to all of you! On another positive note - well first, know that my insurance denied all of my fabulous Dr. Helsten's at UCSD treatment ideas and protocols. But, the UCSD team, myself, and Merck and Pfizer got the drug combination approved! We have finally arrived, I have waited MONTHS for today - a day when the drugs are approved and on their way to me. The blood is necessary because I have to keep my red blood cells and platelets high to be able to stay on the treatment plan. So, keep donating, keep sharing, keep loving! Oh, and the food - don't doubt for a moment that every night we eat delicious food. I am feeling better than I have with the Kaytruda immunotherapy, but I tucker out about 3 each day. Your generous donations keep the kids and I fed and tummies happy. Thankfully Ben does the dishes so my evenings are a beautiful time of rest. I also love eating the food that is special to you - I think that love jumps into my body and helps heal me! Last night, we had these delicious meatballs - oh my gosh! Thank you so much! LOVE to all of you - watch Kyle tonight. Fox News was incredibly helpful too - my friend Nancy and Claudette from the blood bank have been an absolute gems to keep this hope going for blood. It just takes one of you! Just one of you is a special missing enzyme person like me!
Share
---
The Hospital Loves Me
Posted Feb 2, 2021 by Stacie Buechel
Hello Everyone, Friday night about 9pm, we had to call an ambulance to rush me to the hospital at UCSD. I could not get any water or food down without insane burning. That night was a miserable night in the hospital, even the medicine caused me pain that is indescribable. Within a few days, we learned that the radiation to my spine (which did reduce pain by almost 50% so far) had likely burned my esophagus. Thus, each day I get a tiny, tiny bit of relief. It takes me about 90 minutes to eat a meal, but I am determined. As soon as we can be secure that the pain is manageable, I will return home. I am praying that is by Lena's birthday on February 9th. We also had to make changes to my pain regimen, I was on too high of a dose now that the spine pain was reduced. The overall picture is that I need to stay strong with red blood cells and platelets to be able to get Kaytruda and a new immonotherapy, that they want to do that will attack the cancer in the bone marrow and the tumors in the bones. This is my big chance - this combination. Kaytruda has been approved, but the other drug not yet. Still waiting. I can only keep taking blood for so long. Yes, my picture is a bit grimmer than we originally thought. Cancer pain is pretty intense. I am actively looking for an Osteopath to visit me at home with your donations - anyone know a gentle osteopath? I get a ton of pain and bowel relief from their treatments. UCSD has them in the hospital, but they are too busy to make home visits. I would like someone that visits me at my home safely. We can't give up hope. That word represents more time with my children and family, more time with Essbee and my students, more time to really practice the truest meaning of life. I am hurting for sure, I get so lonely in the hospital - Covid robs us of our families. I have no one to lean on when I am here. While I have moments of deep despair, I am more moments of love and hope. There aren't enough words to describe what so many of you have done for me and my family. When tears well up in my moms heart and face, and she stays strong for my children, don't doubt for a moment that maybe your dinner was the moment that gave her strength to push through. Or the cleaners we continue to pay for with donations, I can't clean and not going to pretend my teenagers do this! :) But, it all matters, with every donation we think of you, we use it to help us or pay for healthcare. You give me a real chance at a real fight, keep praying. Love, Stacie
Share
---
I feel so happy!
Posted Jan 28, 2021 by Stacie Buechel
Hello Everyone! Wow! How many nurses reached out to us to help was unbelievable! This morning I woke up with joy and hope in my heart. I was able to secure authorization from my insurance for some home health and with the donations I will be able to pay for the difference. We also have to buy some new home health equipment. (Never dreamed I would be doing this in my 40's)! The company sent a nurse and my friend, who is an MD Rasha Moss will be helping me with managing my medication, ordering special supplies. If we need additional help, we will reach out to the enormous list of wonderful volunteers. Yesterday, I met with Teresa Helsten, my wonderful oncologist at UCSD. I actually fainted on my way into their office, scared the front desk girl as I begged her for a trash can to throw up in ... it was an eventful way to enter. But, we learned some great information. If you have been following my case, you know that I have never really known the source or type of my cancer. The genome company just FINALLY got back to us! Here is what we know that is new: The bone marrow biopsy showed that I have cancer in my marrow I have spindle cell sarcoma in my bones and the cells are immature is the final diagnosis - this came from the genome company Here is our new plan: Kaytruda as before mentioned has been approved! Whoop whoop! I had a tumor in my neck and it has vanished - this is big. I keep feeling my neck to see if I am imagining this. We also plan to start a new targeted therapy that is not as mean as chemo now that we have the information on the sarcoma. This would be taken daily at home orally. But, just as with Kaytruda it has to be authorized by my insurance - this is already in process. I am so hopeful that these two targeted immunotherapies will attack the cancer. I really would just love to have 5 years at a minimum with my family. I know what I am facing and in this cancer storm - the beautiful rainbows are all of you! Thank you! Pray! Believe! Stacie
Share
---
Return to Home - Not all Rainbows and hearts
Posted Jan 25, 2021 by Stacie Buechel
Dear All, I am going to be quick, I don't even have the stamina to sit up and work through the pain at the moment. I am coming home from an 8 day stay in hospital. The pain is hard to endure. I have dealt with blood clots, liquid around lungs and I need help. I am going to be straight shooter. THANK YOU FOR EVERYTHING. I mean it - this is some hard stuff. (+) Keytruda got authorized directly by Merck We got some safe blood. My business continues to be ok Las Patronas and Nancy Phillips have sure done a tremendous job helping with blood! O (-) I need home health nurses (private pay) to drain my lung catheter. So, if a friend wants to help me in anyway, the best way is to contribute dinner or Venmo me a cash gift. This cash gift will give me the money I can use to pay for the private nurse. I am the breadwinner while Rob was more of a stay at home Dad, so that has been super challenging. If you can .... this would make home care free ... If you are a RN, MD. DO, or just someone good with changing medical dressings and such (this job doesn't not require a degree - I Just have no one at home to do this for me) I would love to have people train on how to drain my catheter in Wednesday with a private nurse. This catheter scares me, super easy to drain but I want some help. This would save me SO much money in private nurses if I had a local person who can drain. But, you have to be totally reliable/ time/ date I don't have a photo. - this was a tough go at the hospital. My mom arrives today, she is older and loves the help. I am waiting to get discharged once I have all my catheter/ home nurse in order. I am so nervous, but we have small promises in sight. The Keytruda authorization was a VERY big deal. So happy. LOVE, LOVE, LOVE to all of you - oh my heavens I am sure I have spelling mistakes, don't tell your kids. Warmly, Stacie
Share
---
Stacie is coming home from extended hospital stay
Posted Jan 23, 2021 by Rob Buechel
Stacie comes home on Monday, 1/25. I'll be driving her to ucsd for a few appointments so I'm hoping we can get meals this week for this transition. We appreciate all the help this has been. Rob
Share
---
January update
Posted Jan 8, 2021 by Stacie Buechel
Hello friends! Wow! I can't believe the love of so many who donated blood! It has been remarkable to watch. Thanks so much to Nancy Phillips who started this blood drive. We still have no matches. But, I did learn more information. I get so much information, that sometimes I have a hard time relaying that to you all and with Covid I am always alone in my appointments. I did learn I am A+ and I am MISSING a protein called KPB. The only blood types that could possibly help me are A+ with missing KPB or O-/+ with missing KPB. The tough part is that I still have not been able to have chemo or immunotherapy because of my anemia. So, my scans this past week showed some really disturbing growth in my body. I can't list all the sadness, it has really spread, and the cancer caused another fracture in my T9 of my back. The cancer is growing out towards my spinal cord. Tonight at 8:30pm I am getting an MRI to see how close it is to my spinal cord. None of this has been good news. All we can do is pray at this point I get some blood so that I can change my chemo to an oral chemo and take Keytruda. I also had trouble with my insurance getting Keytruda approved. But, we are working on that. Insurance sucks. It has been a really hard week on me and my family. Without, blood I am going to really struggle to beat this cancer. Covid makes me so sad because I know many of you want to visit me, we are setting up a room where guests can visit me with a mask and social distancing in place this weekend. Enjoy this message from my Lena - my miracle child. Now, I need a miracle too! Pray, Stacie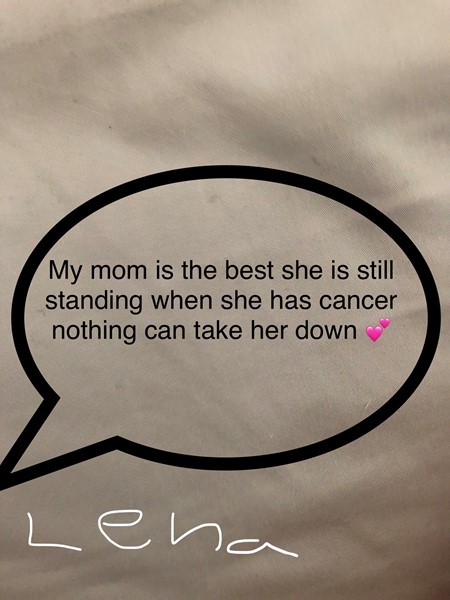 Share
---
Blood Drive + Update
Posted Dec 26, 2020 by Stacie Buechel
Hello Friends, I sure hope everyone is enjoyed a wonderful holiday season. Quick update - maybe last week I posted how excited I was to be able to do immunotherapy! But, the very next day after receiving this super news, my blood work came back extremely anemic. Worse that what I have been struggling with through this ordeal. We discovered antibodies in my blood which meant my blood was fighting all the previous transfusions I was getting. This meant I could not get chemo two weeks ago - Thursday when I was due for my regular chemo and first infusion of Keytruda. That night, my blood was sent to the American Red Cross and they gave us the news that I have an exceptionally rare blood type that less than 1% of the population has. I didn't know exactly what this meant, but I have learned that it makes it so hard for me to get blood and I need blood weekly to be able to get chemo and Keytruda. In California they only had two units of my type of blood, both of which the ARC gave to me. They sent me to ER that night and kept me at UCSD for 5 days to watch me, also with the hope that more blood would come in, but it did not. They searched the entire Western United States. So, I had to skip the second round of chemo and Keytruda. I was released from the hospital to home with instructions to rest, rest, rest. Currently, I am resting at home just waiting for blood. My treatment cannot move forward until I get at least 2 - 3 units of blood. The hope is that as the chemo kills the cancer, my own red blood cells will begin to produce again. But, without treatment, I am so stuck. I am due again for chemo and Keytruda this Wednesday. Need blood by then to be able to get treatment. Pray. My friend from high school, Nancy Phillips set up a blood drive in my name. I have really appreciated the blood banks and their hard work. If you are A+ you could donate in my name to see if you also are this super rare A+ or you can simply donate for my blood drive because you want to help out others! The information for the blood bank is on the picture below. The support for this blood drive has been incredible! So proud that so many of my friends without hesitation went to donate! Pray I get blood this week, Stacie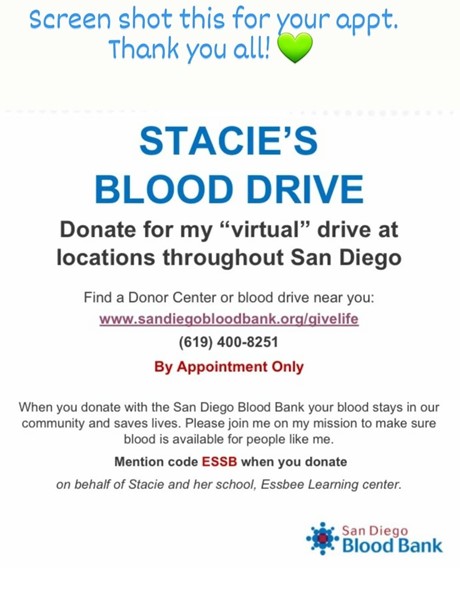 Share
---
December Update
Posted Dec 18, 2020 by Stacie Buechel
Hi Everybody! Thank you so much for the dinners, veggies, and well wishes! Again, I really do apologize that I don't write thank you's or reach out all the time - how I feel day to day is inconsistent. I read every card and enjoy every kind gesture - truly. I lost my income and the generosity has been unbelievable and made me so sensitive to all of the people who from Covid suffer financially. What a year! Fortunately, Essbee has been able to quite successfully move forward with me managing from home - my team has been really terrific and I am so hopeful I will be in remission by May or June and back at my home away from home. There have been many changes in my health. Currently, I am still on chemo - a global chemo because they still are not sure the cancer cell type. It is back with the genome company after the Harvard doctor identified some additional information and this allowed my cells to be resent to an outside company that looks for genetic links. I have had changes since I started chemo. My fever I had for almost 70 days is GONE! Oh my heavens - wonderful! The cancer sweats I had every night that were debilitating are GONE! I pray they stay gone! In January I will go through two scans - a Pet scan and bone scan to see if the chemo is actually working. My hip tumor - the largest tumor has stopped growing and I have no pain after 5 rounds of radiation on my hip. Yesterday, I found out that UCSD identified that I have a marker called PDL1 on my cells. Hard to explain but this marker is an enzyme that is helping the cancer attack my immune system. The good news this marker makes me eligible to take Keytruda, the darling of immunotherapy. This is the drug that cured Jimmy Carter's brain cancer! I start next Wednesday in conjunction with my chemo. Yesterday, I went to chemo and was unable to get chemo because my platelets were too low. Big bummer - because it slows down the process. However, we found out yesterday that I have a rare antibody in my blood that is actually attacking the blood through transfusions they have been giving me. I can't even remember the actual special blood. But, last night my blood was sent to the American Red Cross to figure out what this antibody is - today the American Red Cross shipped from L.A. blood for me to UCSD to help me have the RIGHT blood! Another strange turn of events - but I am so tired from being so low on red blood cells that I am so grateful to finally get the right blood. My legs hurt terribly because there is cancer inside my bone marrow taking up the space that my red blood cells need. I think that is it! Tricky business being such a rare patient - but I am so hopeful. I really want to go into remission - so that I have more time with my family and students. I am so hopeful. Thanks for everything! Enjoy your holidays! Support the American Red Cross - wow they are amazing! Love, Stacie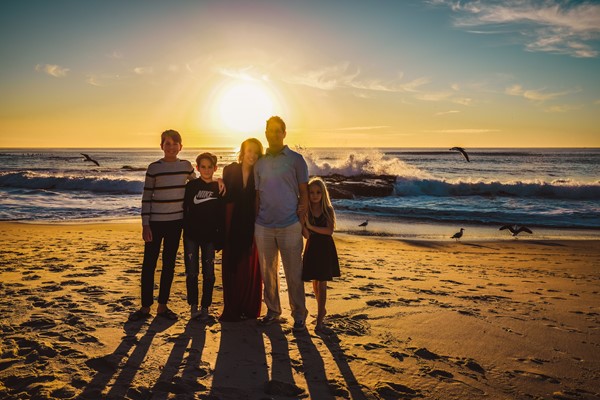 Share
---
December meals needed
Posted Dec 3, 2020 by Rob Buechel
We started to get good at this meal train and then the December calendar did not open for people to sign up until 12/1. So this week is probably too little notice. We have Katie for dinner on Monday. The rest is totally open. Gift cards for groceries or for girard gourmet or chipotle or restaurants might be ok since things are mostly delivered these days. Thank you for your continued support. Stacie gets third round of chemo tomorrow am. Let's pray it's working!
Share
---
Happy Thanksgiving!
Posted Nov 25, 2020 by Stacie Buechel
Hi Everyone, I pray all of you are finding a special way to celebrate this year with your loved ones. I wanted to share an update on my care. I just got home from a long hospital stay, after I got too sick at home. I have the two issues - one is the symptoms from the cancer and the other is the actual cancer. In the hospital they were able to stabilize me (and the symptoms), give me blood transfusions, stabilize an intense calcium issue and help me learn to manage the intense pain. Wow - bone cancer pain is intense. I have a hard time managing the pain, I don't want to sleep all day, want to be present for my children, and this is really hard to balance. Secondly, we started chemo in the hospital. In the hospital I went through a horror as they noticed some of the symptoms were in line with brain cancer and I had to walk the walk of more scans and learning if I have brain cancer. I do not, but we did find another spot on the skull and a node in my neck. I still have no pathology. It almost brings me to tears just writing that, but we still don't know what type of cancer I have. UCSD is to be applauded for working with other hospitals in and out of California. Currently, my pathology is at Harvard and I wait results from their research. We started a broad spectrum chemo just to try and kill some of the cancer and help with the symptoms of which are becoming overwhelming. Again, I am touched by all the donations. One of my Essbee parents, Rasha, when she learned I was in ER, rushed to ER with bags of supplies she thought I would need in the hospital. Indeed, her supplies kept me sane for days on end! Another friend Diana, took good care of my family while I was gone, and so many of you fed them and loved on us! I often come home to cards and I LOVE them. I pray I come out of this, I have always lived a life of service to children, it is just part of my soul, but now I realize I want to do even more in my future. And, finally - give blood if you can! I am A+ and I was talking to doctors and nurses learning how they always need blood. My journey is just one tough journey in a world of tough journeys. I am so inspired by our community. Thank you so much - Stacie
Share
---
Thank you so much
Posted Nov 9, 2020 by Stacie Buechel
Everyone, Thank you so much for the food, gifts, and gift cards. I am still sadly very ill, almost too tired now to get out of bed. I had another biopsy last week because my tissue from the first bone biopsy was not good enough. I am currently doing radiation for the broken hip and lesion. I meet with my two oncologists next week - my regular one and my orthopedic oncologist who watches the hip. I am very hopeful at this meeting that they have been able to discover what my pathology is, that is currently a very big issue. I apologize that I don't say thank you to each and every one of you for the cards, notes, emails, texts and donations! I just can't explain my level of fatigue and discomfort. Please know I appreciate everything. I lost my income at Essbee and it has been traumatic for our family. But, I have used my donations to purchase necessary items to keep me warm and pay my healthcare costs. Warmth is a big deal to me, I am always freezing. I am working with a nutritionist who works with my husband and we have started a full blown meal plan. I am 5 days in. Pray that on Wednesday I get some pathology! This is a VERY big deal in my care. Love, Stacie
Share
---