Update on my health and how I almost got kicked out of a GOP meeting with Dale Folwell.
Posted 09/05/2019 by Jennifer Marshall
On Tuesday we got our "halfway through chemo" report. The Dr. showed us the before and now PET scans and happily reported significant improvement. Yea! Some of the areas are completely resolved while some still have a bit to go. But all in all, a great report! I still have two more treatments and my immune system is in really bad shape, but I'm plugging along. (personal bubble space is now doubled in size...lol). I will hopefully be strong enough to go back to work second semester. Short Story of how I almost got kicked out of a GOP meeting. I managed to make it out to a "town hall" for our NC State Treasurer, Dale Folwell last month. You see, Dale has been messing with the state employee healthcare plan with his clear pricing plan. It was bunk, and the vast majority of the hospitals (including mine) and providers refused to sign on so there was a standoff. Articles were written and insults hurled. This is my and my family's healthcare so, when I saw Dale was going to do a town hall (so to speak), I wasn't going to miss it even if it was sponsored by the Surry County GOP. I rode up with Rhonda Mays, because it was just a few days after my 3rd treatment and I was in no shape to drive. Well, Dale did his best to spin the whole healthcare issue for the room. He explained that purchasing medical services should be as clear as buying potato chips from the grocery store. That you should know what you can afford before you check out. Hmmmmm, ok. When it was time for questions, I waited my turn. I politely explained that I appreciated his attempt to make the costs transparent, but that I felt that the chip analogy he used was just not comparable. I am ok with buying store brand or even off-brand potato chips, I am not ok with buying the cheapest medical care, This is my life and I am not willing to negotiate on my care. At some point in my retort to Mr. Folwell, the gentleman running the meeting got up and scolded me, telling me that I needed to be respectful. I shot back that I was being respectful. Then he threatened to have me removed, if needed, by force from the meeting. Mind you, I was still sitting in my seat this whole time and never raised my voice. I just stared at him and said "go ahead". It came out with a tone and a look that few people have experienced, but my children and a few students can attest to its effectiveness. He didn't say another word, turned and sat down. I resumed my comments to Dale and wrapped it up shortly thereafter, but he got my point loud and clear. I'm not looking for bargain brand medical care and neither should anyone else. Oh, and Dale kicked the clear pricing plan can down the road for another year. Victory!
Share
Bald is beautiful.
Posted 07/21/2019 by Jennifer Marshall
Update! 16 days after my first chemo treatment I started to lose my hair. It's an all too common side effect of the type of treatment I am on. Well, after a few days of having more and more of it come out, I decided to shave it all off. During this whole process my husband, Jeff has been a rock star, but most of the decisions have been made by my medical team. It can leave you feeling quite powerless. But, Jeff is a team player through and through so when I said I was going to shave my head, he jumped in and joined me. So, I handed the decision of where to go to him. I will admit, I was nervous about what I would look like bald. On the ride there were all kinds of visions going through my mind. All I knew was gradually losing my hair was going to leave me looking like Gollum from the Lord of the Rings, so it was getting shaved off no matter what. I'll be honest, I kept my eyes closed until she was half done. When I dared to take a peek, all my anxiety melted away. I'm going to rock this bald look and kick cancers ass in the process. Thanks for taking this journey with me.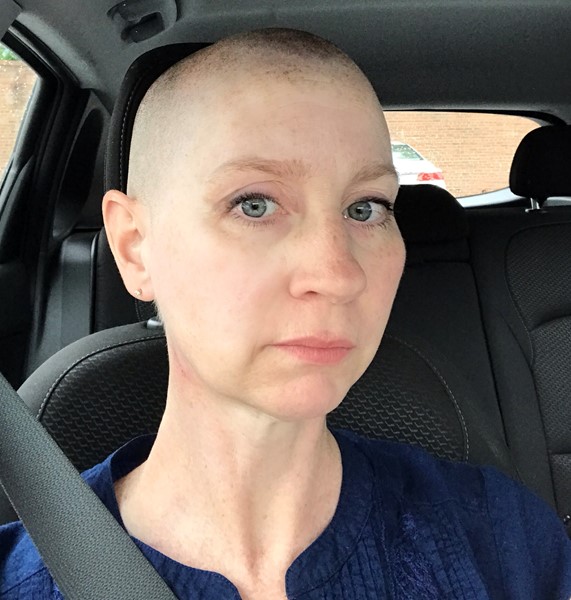 Share