Updates
Updates on Kenny - surgery date
Posted 05/29/2019 by Brigid & David Kaelin & Caldwell
Kenny has been quiet about how he's doing because he feels like crap and doesn't want to bother anyone. He also does not want me "spreading morbid rumors," which is a direct quote. I am going to share what I know because I keep getting many many many messages and feel guilty that I can't respond to them individually (i can't even get it together to go to the grocery, much less get my inbox to zero). I'll stick to the facts without flourish or drama (I PROMISE, DAD, if you're reading this). He has a recurrence of the Squamous Cell Carcinoma of the sinus. SCC are technically a skin cancer, but his SCC had nothing to do with sun exposure. Sinus cancers are rare — only about 2000 cases a year — and are caused by environmental exposure to hazardous chemicals. Dad spent many years as a chemist and working with hazardous waste disposal (which i used to think meant "mafia," but apparently it literally means hazardous waste disposal), so he certainly had exposure to a variety of dangerous chemicals. He tried immunotherapy in February, March, April, but the tumor did not respond. It has grown tremendously and looks incredibly painful. He says it doesn't hurt much. I believe he is being stoic (sorry, sorry, I said I would stick to facts and not get flowery). His team of doctors at University Hospital (Brown Cancer Center) believe that the tumor is still resectable, though it is a long surgery. Surgery is scheduled for June 5, but he will need to go into the hospital on Monday, June 3, for some pre-op procedures. During the surgery, they will remove his right eye and part of the skull/brain to wherever the tumor has invaded because, of course, the goal is clear margins. It's a 15-18 hour surgery that involves the ENT surgeon and a brain surgeon. He has not been eating much, though he would disagree with me there. I've only seen him have a few bites a day. We've been doing our best to encourage food without being pushy or making him uncomfortable or annoyed. The surgery, though it is risky and has a long recovery, is his only option for potential cure. Otherwise at the rate of growth of the tumor, doctors say they would expect 2-3 months at most. They also say that because the tumor is likely very painful, the surgery would give him better quality of life and ease the pain. I think Dad doesn't feel like he has much choice in this, as it's either "try surgery for a cure" or "this will kill you in 2 months." PLEASE do not inundate Dad with messages. He doesn't want the attention. If you want to visit with him, send me a message and i'll try to arrange it — it's best if it's a casual thing, like, "hey, I was going to the pool anyway and thought I'd pop in." He sleeps most of the day, so timing visits is tricky. *** People keep asking what they can do to help. We don't know. But the few times that dear friends have dropped by with dinner have been wonderful. Brigid is stretched thin caregiving for the kids, her career, and her dad, managing everyone's schedules, arranging childcare (we have an au pair, but that functions more as regular daycare, not as an extra family member — she's not around on weekends or during off-hours) and David is stretched thin taking care of Brigid and also traveling 4 days a week and spending any off-time trying to fix up Dad's house to make it inhabitable for the us and the boys. All that to say — bringing dinner so Brigid doesn't have to meal plan or grocery shop is extremely helpful. We are putting a few available dates on the calendar. Please don't feel any pressure to do this, but so many people have been asking if they can help that we thought we'd throw up some ideas.
Share
---
Kenny went to Scotland!
Posted 04/30/2019 by Brigid & David Kaelin & Caldwell
Kenny bought a last-minute plane ticket and joined me on my UK tour, where he got to see the non-glamorous side of the business ... lots of time in cars and soundchecking, etc. But he also got to stay on the Isle of Skye for three nights, see Inverness and Edinburgh, as well as an in-depth driving tour of Yorkshire and a wee pub in Cambridge. The trip was pretty hard on him -- as it would be on anyone -- and he's fatigued and in a bit of pain. He had immunotherapy the day after we got home, so a lot of the pain is probably from that, though he was certainly in pain during the trip as well. I'm grateful to the NHS pharmacists, who sold me ibuprofen with codeine over the counter for less than $5, no questions asked. I'm also impressed with the accessibility attempts of attractions and cities all over the United Kingdom. We were able to rent a mobility scooter when we wanted (at my insistence, not dad's), so he could wander miles and miles with me on and explore city walls, gates, pubs, etc. FYI, he did not scoot and drive. Anyway, he's still pretty tired. We are awaiting some new scans to help us make bigger decisions. He's on Facebook and still reads thousands of pages a week, even though only one of his eyes is really working properly. 6-year-old Graham was cast as Young MacDuff in MACBETH! It opens on Thursday May 9 at Commonwealth Theatre (formerly Walden Theatre) on Payne Street. There are 5 shows. If you want to see him on his non-school-production stage debut, then best buy tickets early: https://louisvilletickets.com/events/young-american-shakespeare-festival
Share
---
2nd round immuntherapy
Posted 03/20/2019 by Brigid & David Kaelin & Caldwell
Hello! Dad had his second round of immunotherapy this morning. He's still waiting on some prosthetics for his soft palate and for new dentures, but he's able to speak and isn't in too much pain. Next week little Graham is having a tonsillectomy, so it'll be caregiving central at our house! April 10-24, I'm heading to the United Kingdom for a music tour, and Kenny has decided to come along on the trip! He's got two great eyepatches -- he can still see out the affected eye, but it's at least an inch lower than his other eye because of missing bone and because a tumor is pushing down on it, ergo he sees on two different planes. I imagine that causes headaches, but he never complains about a thing. Thanks for the love. We are aiming to have an estate sale of Mom's things on either Saturday March 30 or Saturday April 6, and then all of us move into the Lakeside Drive house by opening day at Lakeside!
Share
---
Updates on Kenny and the family
Posted 02/20/2019 by Brigid & David Kaelin & Caldwell
It's been five months without Patsy. We've been a little too busy to grieve properly. Kenny jumped right into surgery for his sinus cancer four days after Mom's funeral, which is a dumb plot twist that wouldn't even be believable in Hollywood. The surgeon got clear margins (meaning they dug out the cancer and the outermost portion they extracted showed all normal cells) and "no further treatment was recommended." He had been waiting for the surgery to heal completely before he can get a prosthetic palate that has teeth, so he will be able to talk and eat. The doctors were also considering lifting his cheek/eye up, but the eye kept sinking farther down his face. The plastic surgeon wanted to wait until it stopped moving/healing before attempting a lift. So if you've seen him around, you've seen that his right eye is about an inch lower than his left eye. He can still see out of it and says he has no pain. Last month he went back for the 4-month follow up CT scan, which, sadly, showed a recurrence of the tumor (a squamous cell carcinoma in the sinus), this time above his eye and invasive of the eyebone. We are discussing various options with the Head/Neck clinic at Brown Cancer Center at UofL, but today he is going to have an immunotherapy infusion. Not the best news, and there isn't much more to report at the moment. Dad remains a very private person and prefers empathy to pity. Buy him a beer if you see him out and about, as he's had a pretty rough couple of years, from being primary caregiver to Patsy to dealing with his own cancer while she was in hospice. Kenny's been spending lots of times with Graham and Angus, and we've been trying to enjoy family dinners. David still travels 4 days a week, either to Connecticut or California, and I've been busy trying to finish a new album and plan some tour dates, as well as volunteering with Kentucky Homefront. thanks for the love -- I'm not sure what people can do, as I'm a little overwhelmed at the moment, but I wanted to offer an update. Brigid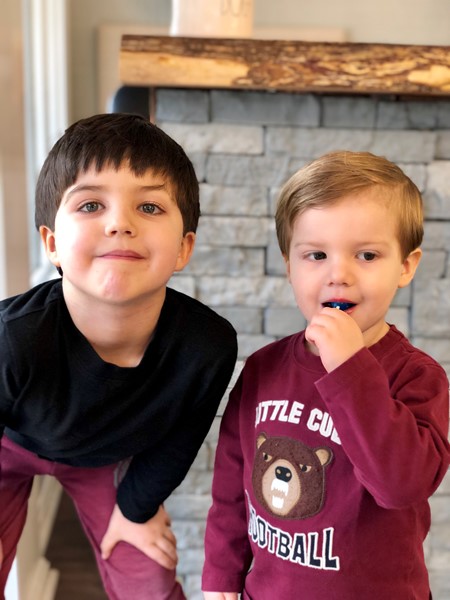 Share
---
Dad's home!
Posted 09/21/2018 by Brigid & David Kaelin & Caldwell
He's home and recovering -- he's on a mostly liquid diet ("mechanical liquid") because of difficulty swallowing that a maxillectomy causes. We are simultaneously trying to take care of him and also trying to leave him alone because he does not relish the attention and insists on proving his independence, understandably. (We know you are independent, Daddy, we just love you and want you to be healthy!) Thank you again for the meals and the love. Brigid
Share
---
dad's surgery updates
Posted 09/19/2018 by Brigid & David Kaelin & Caldwell
https://webothhavecancer.blogspot.com/2018/09/dads-surgery.html
Share
---
Family updates - funeral, birthdays, surgery
Posted 09/17/2018 by Brigid & David Kaelin & Caldwell
http://webothhavecancer.blogspot.com/2018/09/funeral-wake-surgery-birthdays.html Per Mom's request, last week we had a short visitation at the funeral home, followed by a party. We couldn't find a fitting venue, so we fast-tracked a city permit to have a block party. It turned out to the be the best venue possible, and Mom would have absolutely loved it. There was live music, proper bagels and pastrami flown in from New York City, and hundreds of family and friends. We sat Mom's urn in her favorite chair overlooking the street, where she loved to perch and watch the Lakeside-goers. It was a perfect wake and party, and I suspect we'll be doing it annually. Kenny update: He's having surgery Tuesday (tomorrow) to remove his tumor, so send good thoughts for quick healing. Family update: Graham turned six yesterday, and we all celebrated by spoiling him rotten. Davd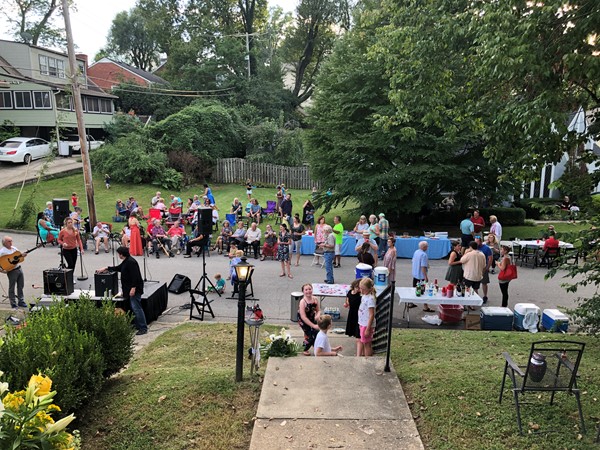 Share
---
Updates, Hospice care
Posted 09/07/2018 by Brigid & David Kaelin & Caldwell
copied directly from http://webothhavecancer.blogspot.com/ It seems I always post the same update. I don't mean for my posts to be cryptic, but I don't like to bring people down. Mom is very peaceful and, I think, not in pain (unless she tries to move in bed, in which case she grimaces as if she's doing CrossFit). Her body is tired, but strong, and it is taking a long time to shut down. Hospice has said she is in the "hours to days" part -- though, because she is so strong, she's been in this phase for two weeks. Pancreatic cancer is a beast, and it is hard to watch. If you haven't dealt with Hospice care, you may not know how amazing they are. It angers me that such good one-on-one home care isn't really available here (and certainly not for free) until you are dying, but I'm grateful for the caring nurses, social workers, and bath aides who have made the past month easier on our family. Patsy has mostly been asleep since the 17th of August. She's had visitors in and out, and we've had conversations here and there. For the past week, however, she's mostly been unable to speak or move on her own. We hold her hand and snuggle her and tell her how amazing she is and how great she's doing and how much we love her. Visitors are still welcome, but I'd request that no one try to wake her or engage her too much. Just hold her hand or speak quietly. Hearing and touch, I am told, are the last senses to go. Dad is feeling much better physically, though of course he is very sad. He has surgery scheduled for the 18th of September to remove the tumor from his sinus, and my family will take care of him post-op. I am all-business -- trying to be a daughter, but also taking care of bank affairs and arguing with creditors who charged late fees because Mom hadn't opened mail, etc. David has been taking great care of me, and you all have been incredible, allowing my family a bit of normalcy by making family dinner a regular and easy affair. I spend all night and most of the days at my parents' house, unless I'm gigging or teaching, but I always try to go home in the evening to have dinner with the boys or do bedtime if I can. And then back to Mom, to sleep in the same room as her, administer her overnight medications and make sure she's comfortable -- and that Dad can get the rest he needs to fight his own cancer. Of course I will keep people updated on everyone's status and arrangements when they are made.
Share
---
September
Posted 09/01/2018 by Brigid & David Kaelin & Caldwell
I've been writing more on http://www.webothhavecancer.com This time last week we figured we'd be hosting a funeral this weekend, but Patsy is still clinging on. We've been trying to enjoy and savor her presence, though it's hard to watch her suffer. Hospice is helping to make sure she doesn't feel pain, but I know she hates being bedridden. It is September -- wow! Kenny is feeling much better and has a surgery date on the calendar for the 18th. Thank you for the meals, the donations (which has gone to meals, caregivers, and supplies to keep Patsy comfortable, hiring extra childcare so Brigid can stay with Patsy overnight), and the love.
Share
---
Updates and thank you
Posted 08/21/2018 by Brigid & David Kaelin & Caldwell
Brigid here -- thank you all so much for the love. I've been a bit overwhelmed, but am holding it together. David and I cut our Switzerland/Austria trip a little short because we felt weird being away for so long. I'm glad we did because I went straight to visit Mom after getting off the plane -- and found her miserable in much pain in bed. She'd been to the pool the day before and had eaten, but she seemed to be declining quickly. David and I worked and cleaned (with help from Wendy, thank you!) to clear out her dining room and make a first floor bedroom. With your donations (THANK YOU) we were able to buy her an adjustable bedframe, so that she can avoid a hospital bed right now. Hospice will provide a twin hospital bed, but we wanted to be able to keep Patsy and Kenny together (because he's undergoing treatment and it's better for them to be able to rest together) -- and also so I and the babies could lie down and snuggle with Mom. The bed is in downstairs, and Mom has spent most of her time in it. She scared us last week -- going from August 10 to August 18 without eating. She was conscious and able to laugh and have conversations, but she had no interest in food. Then on Saturday morning the 18th, she ate 2 eggs and toast. And on Sunday she ate a doughnut -- and I'm pretty sure she ate another doughnut this morning, but it was consumed so quickly that I missed it :) I had spent last week calling nurses and working with them to change her medications. The Hospice nurses seem to have her pain under control now. The best thing about her downstairs bedroom is that it makes it easy for her to have visitors. She often *says* she doesn't want visitors, but then I see her eyes sparkle when they come and she ends up seeming refreshed, even though it's also tiring. She's a social person, and I think visits are good for her. Kenny finished his last day of radiation today, and he got to ring the loud bell and everyone clapped and cheered and he got a funny little certificate from UofL Cancer Center that no one wants to achieve. He brought a huge tray of cookies to the radiation team because he's known for handing out treats. They've been great to him. Thank you to Melissa and Kevin and everyone who has given Dad a ride to or from treatment (his were daily treatments, so it was a lot of back and forth to Brown Cancer Center) and to those who donated Uber gift certificates so he didn't have to drive all the time. He is starting to have some side effects from the radiation that make it even more difficult for him to eat -- but mostly, he is very tired. Now we wait 4-7 weeks, have some consults and scans, etc, to plan for Kenny's surgery. The radiation and chemo should be shrinking that tumor so that surgery is less invasive. The timing of the surgery is a delicate thing, and we'll defer to doctors on that, of course. David (my husband) is back to traveling 4-5 days a week, and his current assignment is in San Francisco. He doesn't normally travel that far, but so it goes this time. I feel bad for him, as he's been a rock, holding everything together, making uncomfortable phone calls to Hospice, and listening to me when I behave like a crazy person -- and now he's traveling thousands of miles, shifting time zones, and feeling guilty that he can't be with us all the time. Graham started kindergarten at Bloom, and he loves it! Angus is home with a babysitter while I'm working or with my parents. I'm still gigging a ton (can't lose that income!), which is good and distracting. It's a lot of private parties and corporate events rather than club dates. I'm holding it together, and I can't thank you all enough for the meals. I started this site for my parents, but it turns out it's me who is having difficulty sorting dinners and meal planning and even getting to the grocery. Knowing that a friend was bringing dinner to me and the boys tonight meant that I was able to spend time with my parents today between my own work and do some things for them, like, laundry, Rx-picking-up, cleaning, etc. for them. Enjoy this photo of Mom and Angus napping together in the new adjustable bed.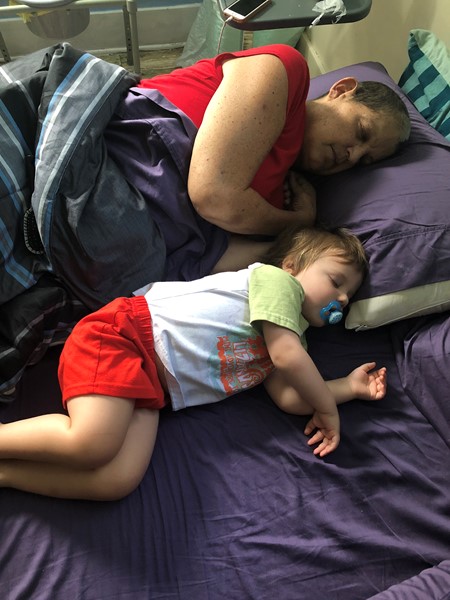 Share
---
Updates
Posted 08/11/2018 by Brigid & David Kaelin & Caldwell
Kenny has completed 4 weeks of daily radiation and weekly chemotherapy and has handled it amazingly well. He can still eat, though nothing tastes good. More importantly, he can drink beer. Doctors had warned him that he'd probably need a feeding tube and would not be able to handle the carbonation of beer, but he has proven them wrong so far :) He's got one more week of radiation & chemo, and then we will re-access and discuss plans for surgery. The rest of this update I've copied & pasted from my mom's CaringBridge website (which I hadn't posted on in months because there just hasn't been much to say): FROM: https://www.caringbridge.org/visit/patsykaelin/journal Brigid here. As Patsy mentioned in her last update, she had chemotherapy every 14 days from February to May, then stopped for the summer and enjoy Lakeside, hoping to continue treatment after Labor Day. She's been able to enjoy the pool some, but not as much as she had hoped. A July CT scan showed progression of the cancer (not unexpected, since she had paused chemotherapy), but she has started to have some pain and symptoms since then. In other family news -- and we had not intended to be secretive or anything, but my dad is a private person and we felt it was his new to share -- Kenny (my dad, Patsy's husband) was diagnosed with sinus cancer in June. It is not a terminal diagnosis like Mom's, but it is a large tumor that has spread to his eye-bone, nose, and mouth. He started weekly chemotherapy and daily radiation on July 16 in hopes of shrinking the tumor and will have surgery to remove the rest of it this fall. Part of not updating this website is that I didn't know how to handle updating people on both of my parents' cancers -- whether to continue to use CaringBridge, or start another site (my dad didn't want attention), or what. But it has also been challenging for me to update people individually. I appreciate the emails and texts, but it is hard for me to spend my days answering emails and texts to update people on my parents' treatment schedules. I would rather update at a central location where people who love and care for my family can see what's happening. That said, at the suggestion of some friends, a mealtrainPLUS has been set up for updates and task calendars. Meal deliveries are not actually what my parents need right now, as neither of them can eat much. Dad has no taste buds from the radiation, and mom's GI system is, um, cancerous. But little things have been helpful -- visits, people to take our their garbage, or do a load of laundry. That website is here: https://www.mealtrain.com/trains/m8q29l I just returned from a 2 week tour, so I haven't updated the sites, but am trying to catch up with that this weekend. One more bit of information that we haven't talked about because of its connotations: Patsy has been admitted to Hospice care. We don't want people to panic or start flooding her with phone calls (she's very tired and anxious already), but we have taken the advice from friends regarding Hospice which is: call them before you think you need them, so you can get the most and best care. She's eligible for Hospice because she's lived well beyond her prognosis and because she is currently not seeking life-prolonging treatment. If she returns to chemotherapy after Labor Day, then she'll be discharged from Hospice and will do treatment (it is not uncommon for people to go in and out of Hospice). It's only been a couple of weeks since we've contacted Hospice, and they have already provided so much in-home help to manage her symptoms. In fact, a nurse just came on a Saturday morning to help manage some of her medications and symptoms. Patsy is NOT bedridden -- she spent 3 hours at Lakeside with a friend on Thursday -- but she is very lethargic and has pain and symptoms that need more attention than her oncology office can provide. She's definitely spending more time sleeping and does not have much appetite after breakfast. Mornings are better for her, then she usually naps and goes to bed early. David and I are at their house today cleaning up, moving things around, and trying to make it easy for them to have visitors. If you're thinking of visiting, definitely text first Patsy 502-457-5905 Kenny 502-457-5904 Brigid 502-419-2666 In the mean time, please enjoy this photo of Graham and Angus in their new lederhosen (I was in Bavaria yesterday!):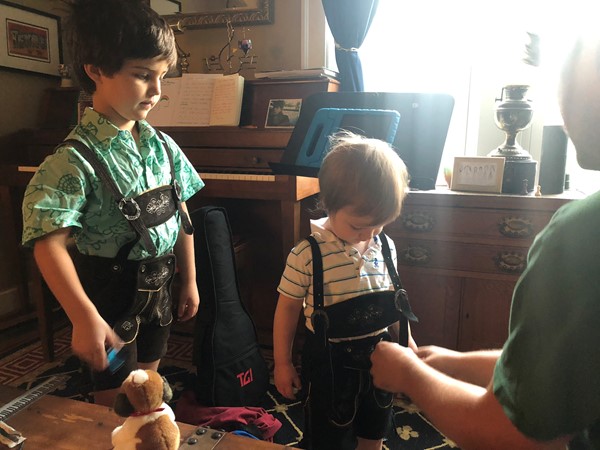 Share
---
Treatment plan & basic info on what is happening
Posted 07/16/2018 by Brigid & David Kaelin & Caldwell
UPDATE ON WHAT IS HAPPENING: Kenny was diagnosed with a stage 3or4 (drs seem to disagree on which) cancer on June 29. He had a chemo port put in on July 1. He will have radiation 5 days a week + chemotherapy once a week, beginning July 16. This will last 5 or 6 weeks. Doctors are hoping to shrink the tumor, so a surgeon can remove it more easily (surgery is usually 6-8 weeks after radiation ends). He's at the Head & Neck Center at UofL's Brown Cancer Center. Patsy is at Norton Cancer Center, but she is taking a break from chemotherapy for the summer to enjoy Lakeside. She is scheduled to resume treatment in September. She is not in much pain, but is very tired. She was diagnosed November 17, 2016, and we are amazed by her strength. Her chemo will continue until she chooses to stop treatment, as there is no cure for pancreatic cancer. With the intense treatment schedule, these two will need all the love they can get. Brigid will drive them to as many appointments as she possibly can, but sometimes these appointments overlap or Brigid will have to work. Doctors have said it's very important that they not fall down, so Brigid is trying to also get over there to roll down the recycling bin and garbage bin on appropriate days. She's also trying to do their laundry (there are 28 steps between their bedroom and their laundry room and this terrifies Brigid). We are also trying to plan out some big renovations to make their home accessible -- and so we can potentially move in with them. There are roadblocks with issues related to estate planning and finance, but we are meeting with lawyers and financial planners to try to tackle this. They are both very strong and smart and stubborn -- and no Kaelin is good at asking for or accepting help. We want to make things easier for them, particularly from July 30- August 13, when Brigid will be in Switzerland (she's trying to shorten her trip without upsetting her parents too much -- they want her to go, but obviously she is freaking out about leaving them).
Share
---