NOT HOW DID HE DIE, BUT HOW DID HE LIVE
Posted Oct 9, 2020 by Michelle Flowers
Not how did he die, but how did he live? Not what did he gain, but what did he give? There are units to measure the worth Of a man as a man, regardless of birth. Not, what was his church, nor what was his creed? But had he befriended those really in need? Was he ever ready, with words of good cheer, To bring back a smile, to banish a tear? Not what did the sketch in the newspaper say. But how many were sorry when he passed away.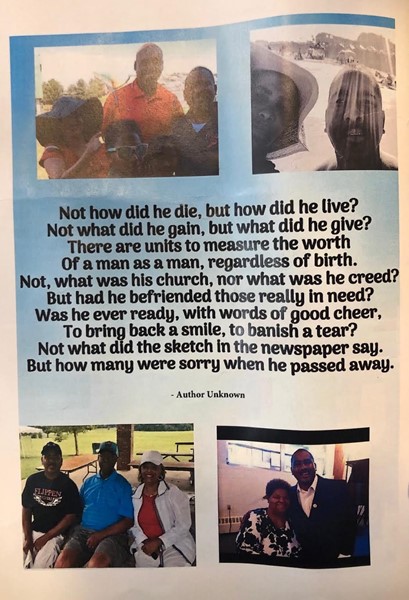 Share
STATEMENT OF REMEMBRANCE
Posted Oct 9, 2020 by Michelle Flowers
Dennis Robert Hampton was born to Dennis M. Hampton and Joyce E. Thomas on October 12, 1972 in Hamilton, OH. Dennis peacefully transitioned into his eternal rest on Sunday, October 4, 2020, in Hanover Park, IL. Dennis was a track star in high school as well as at Bowling Green State University in Bowling Green, OH, where he graduated with a Bachelor of Science in Manufacturing Technology in 1999. Later, Dennis received his Master of Business Administration from University of Phoenix in 2006. He was recruited by Navistar Company in Indianapolis, IN. The family moved to Hanover Park, IL, when Dennis accepted the position of Purchasing Program Director with Navistar, where he was employed at the time of his passing. In 2000, Dennis and Marisa met while out partying like young people do. Marisa went to the restroom and when she came back this young man, Dennis, had invited himself and was sitting at the table where Marisa sat with her friends. They were all talking when she came back from the restroom and Dennis said to her, "you look really young!" She rolled her at eyes at him in response. He then asked her if she wanted a drink, and she told him, "just get me some water." As Marisa was leaving the party, he asked, "Can I have your number?" Marisa responded, "I don't date dudes with sagging jeans," and he raised his shirt and said "I'm not sagging - see, my jeans are too big for me." Marisa saw that 6-pack and snatched the paper from him saying, "Boy, give me your number. He married the love of his life, Marisa Tanisha Wilson, shortly after she received her Master of Science Degree from Ball State University in Muncie, IN. Dennis and the family became pioneers in the establishment of their new church home at Living Faith Cathedral Worship Center in 2009 and faithfully served there as officers and spiritual mentors to so many men who later joined the church. Brother Dennis served as president of the CLFCWC Lay Organization until his departure. More importantly, he was the Pastor's "Right Hand Man." Brother Dennis chaired the annual golf outing and family picnic, two of the church's annual signature events. He served as a very dedicated, vibrant, and active leader in various other ministries at Living Faith Cathedral Worship Center Church, especially The Joshua Men's Ministry. In this capacity, he served is a genuine role model and mentor for boys as they grew into manhood. A real "Joshua Man," he treasured his involvement with his children's athletic feats, serving with the Flipping Flyers Track Club as volunteer couch and assisting Greg Gomez Train Wrestling Club (GG2) among other community engagements. Many of his church members would say, "does that brother every sleep?" He was dedicated to serving both his Hampton family and his LFCWC family. He is survived by his loving wife of 20 years, Marisa, their two sons, 17-year-old Dyelan Miami Hampton, 15-year-old Chase Tayo Hampton, and one daughter, 11.5-year-old London Antoinette Otha Hampton, and his first born son, Daprece Daniels, his father Dennis M. Hampton, mother Joyce E. Thomas, mother and father in-laws, Burl and Antoinette Heaggans and William E. Wilson Jr., his brothers Udrell Thomas II (Blanca) and Andre Hampton, his brothers-in-law William E. Wilson III (Ramona), Brandon C. Wilson (Jennifer), Marco K-S. Wilson and his special niece Tiana Thomas, and a host of adoring nephews, nieces and cousins. He was preceded in death by his grandparents Harry and "Extra Special" grandmother Otha Stewart and William M. and Merrill Hampton.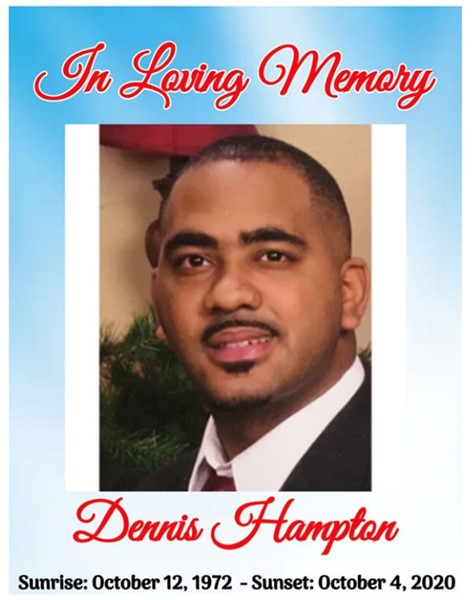 Share
Services
Posted Oct 6, 2020 by Michelle Flowers
Viewing will be held on Friday, October 9 from 12-2 pm at Countryside Funeral Home, 1640 S Green Meadows Blvd, Streamwood, IL.
Share