Updates
Mealtrain, supplies, links...oh my!!
Posted Sep 14, 2021 by Lorelei Bowers
Mealtrain🌱 Soup brigade cooks have been feeding from 45 to 100 campers a night all winter, spring and summer. Bridge2services outreach take the meals to the camps that aren't reached by local resources regularly. Huge THANKS! to the people that have continuously signed up on the B2S meal train. We are always looking for more cooks. Home cooked meals fill a belly and warm the heart to a reaching hand~ If you are interested email Lorelei at Services@bridge2services.com Supplies🌱 With cold weather creeping in fast: coats, boots, hats/gloves/scarves are all in need. We are switching from water bottles as a high need to cocoa packets, apple cider pkgs, and water gallons as a new ask. Donations of Straw bales, wood, tents and tarps would be appreciated as we stock up for the cold days ahead. Any help in these areas are greatly appreciated! For the bridge2services current supply list please refer to the following links below regularly for updates. Links🌱 Stay up to date on Homelessness in Whatcom County, the needs of our unhoused neighbors and encampment reports. Check out the below online Bridge2services links, fb group: https://www.facebook.com/groups/863531634518738/?ref=share Current supply list: https://donorbox.org/bridge2services Web page: https://www.thebridgehope.com/b2s.html Prefer email? Send a hello to this email and be placed on our email list for regular updates. Services@bridge2services.com People helping people~ That's what we all are. Thank you for supporting us in our efforts- you are appreciated 🙏
Share
---
Mealtrain sign ups, water and Memorial 🚲
Posted Aug 16, 2021 by Lorelei Bowers
Hi! This weekend family and friends as far away as California and Arlington, and as close as the camps in our nearby area, gathered to remember Buster Be. For those who didn't know him, Buster was well know by many people- in the unhoused and advocacy communities. Many the night he was bringing your meals out to campers with another outreach worker. Incredible stories were told of his gregarious, charming, giving personality. A morning vigil took place at St.Joes hospital while a donor flag was raised after his heart was given to a recipient in need. The Buster Be Wacky bike parade began a Celebration of Life and ended at a well known spot called the stairway to heaven, where people were invited to write a message on a rock to leave, keep or bring to an important to them spot. Your donations of water were given out, as well as supplies and snacks. Thanks to all who donated! A NOTE TO COOKS: Please sign up on the mealtrain as soon as you can; preferably 2 weeks in advance if not a month. This helps us prepare to plan how to fill the gaps. Thank you! And, as always, more cooks are needed. We reach all the camps with 100 meals a night! Thank you 😊 to all the cooks sharing your time by cooking meals. You are appreciated 💛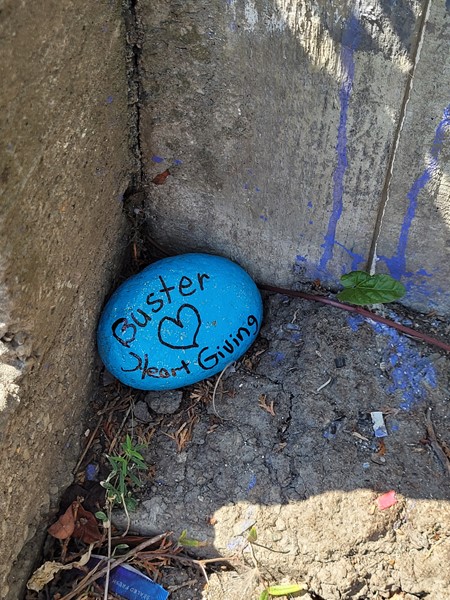 Share
---
👆🔥=👆💧need for 🏕
Posted Jun 25, 2021 by Lorelei Bowers
The heat is on! and water donations are needed. Please let friends/ family/ neighbors know bridge2services has a drop spot for donations at: 3016 Bennet Dr. Entrance off Cedarwood. $ donations can be made: * through this mealtrain Or *https://donorbox.org/ bridge2services Hydration mixes are welcomed (the kind that can be mixed into water). Thank you for considering this way of helping. Outreach workers will be going out more this weekend, and having water on hand to give out is appreciated. Thank you! 😊
Share
---
Summer
Posted Jun 12, 2021 by Lorelei Bowers
Hi! "You all are the best mealtrain team EVER! " An unhoused neighbor wanted me to pass this message on 🙂❤ Many cooks are now adding water to their meal donations, and we appreciate this so much. Water needs are increasing. Bridge2services has partnered with another nonprofit, Ordinary to Extraordinary - O2E. This group has been primarily bringing breakfasts to camps behind Walmart, an area we have been hoping to bridge to. This connection will enable us to assist in bringing ID services to campers in that area. The month of May we were successful in bridging many people to ID services, a single mom from car dwelling to residence, supporting HomesNow in SwiftHaven....and of course nightly distribution of meals made you wonderful cooks. Thank you! and know we appreciate your efforts tremendously~
Share
---
Add water to the menu!
Posted May 17, 2021 by Lorelei Bowers
As the sun shines water needs increase. We go through 1 almost 2 flats of water each daily outreach. Please consider purchasing a flat of water and giving it with your meals. Or give a donation through the mealtrain donation option. This would be a great help. We have had a few new people join our cook community. Welcome! Here is a short list of meals that go over really well: * Shepherds pie * African peanut stew * Curry on rice * Any creamy pasta with meat * Tomato pasta with meat + cream * Cheesy casserole * Burritos with mashed beans, not whole * NO lentils- they are not liked in any form As always, contact Fl!p about ingredients needed and we will see about getting that for you. And- HUGE thanks! Your efforts are appreciated by our unhoused neighbors and the outreach workers. If you would like regular updates on outreach, email me at: loreleib@thebridgehope.com I'll send you the bridge2services newsletter "Under the Bridge". Blessings, Lorelei~
Share
---
April
Posted Apr 4, 2021 by Lorelei Bowers
Hi & thank you! I've been trying this week to meet all the cooks I can in real life (6ft away, and behind a mask). You all are such an important part of the mealtrain, and I wanted to say thank you in person. The outreach workers wouldn't have hotmeals without you all ❤ Happy news! Fl!p has agreed to write up an on the ground (otg) update to send out tomorrow to you all. Today, I am tasked to email housekeeping notes: 🌱 Please fill in your meal slots for the month of April, if you can, or as many weeks as fits your schedule. We need to see the slots filled. Then otg outreach can confidently tell campers they will return the next day. 🌱 We chatted with campers about food they have been enjoying. The results: spaghetti, burritos, corndogs, mac/cheese, soup, goulash, meatloaf. Individually wrapped these can go far. We didn't get the best response about lentils though- something to note. 🌱 we are serving 75 meals an evening and could do at least 100. Again, your meals are golden to our unhoused neighbors. Look forward to seeing your names pop up on the mealtrain! 🌿Lorelei~
Share
---
Urgent Mealtrain need
Posted Mar 28, 2021 by Lorelei Bowers
Hi, Gratitude to all of you that provide meals for our tiny home residents and unhoused neighbors. We outreach workers rely on your generosity- thank you! Since the Laurel Park sweep campers have dispersed into many tiny camps throughout Bellingham. We have been nightly taking your donated meals to these areas. The food is ALWAYS recieved with great appreciation. Since on the ground need is so high we will be redirecting swift haven meals. The residents there have found their kitchen rhythm and aren't in need of meals as much. There will be 3 slots for otg meals each day. Yep, 75 meals actually will be placed in the hands of a hungry person every night. The need has increased that much! Find your day(s), join and know how much you are helping by providing a hotmeal for a outreach worker to give out. Thank you! Added supply needs on the ground are: * batteries a, aaa, d * hand/toe warmers * water * tarps * tents * $ for meal containers, propane and spontaneous food needs. Most importantly.... we need hotmeals. Please look over the below link and join where it is most convenient to you. We need to know ahead of time who our cooks will be. Then we know whether to bring extra non-perishable cold snacks. If you have any questions and/or concerns please email me or Fl!p. Blessings and Love/ Lorelei~
Share
---
Meals needed today
Posted Mar 23, 2021 by Lorelei Bowers
Hi, Our outreach team is in need of 35 meals TODAY. Short notice, I know. If there is a cook/ or cooks that would be able to prepare meals in containers (individually wrapped) that would be greatly appreciated. Hot potato meals, corn dogs, burritos...even meat sandwiches.. doesn't need to be complicated. Thank you for considering, and HUGE thanks for all the meals you have served in the past. Blessings/ Lorelei~
Share
---