Updates
March 2021 Meal Train Calendar is Open!
Posted Jan 15, 2021 by Susan Dever of BEDS Plus
Good morning! I wanted to let you know the March 2021 Meal Train calendar is now available. A couple of changes were made. We now have 30 meal count options (30, 30 and 25). We currently have just under 85 guests in area hotels. I know many of us have a hard time preparing a meal for eight let alone 85. I have issues cooking for two! Hopefully this makes things a little easier for you. We also have added an extra day of shelf stable items. As for the shelf stable items, feel free to purchased as many or as few of these items as you'd like. These are usually sent out over the weekend to make up for the fresh meals that are not delivered on the weekend. At the moment, we are running low on breakfast items such as oatmeal, individual cereal, poptarts, etc. Please feel free to contact me with any questions. Thank you so much for all you do to keep our homeless well fed!! Sue Dever BEDS Plus Emergency Services Coordinator 708-261-7078
Share
---
Happy New Year!
Posted Jan 6, 2021 by Susan Dever of BEDS Plus
Happy New Year Meal Train Participants! I hope this new year finds you all in good health! I would first of all like to thank you for all you have done to keep our homeless friends fed during the past ten months. I know it hasn't been easy providing meals this way so I as well as the BEDS staff would like to thank you from the bottom of our hearts for going above and beyond!! On a more serious note, our numbers have gone up again. We now have 80 guests in area hotels. It was expected with the approach of colder weather. Since the options for the number of meals to supply through February are set at 35 or 40 meals, I am asking those of you who are scheduled to please add one or two more meals to what you are bringing. We will be opening up the calendar for March at the end of this week. I would like your feedback on meal count options. We could have the option of 30, 30 and 25 or 40 and 45. Please let me know your thought. Again, thank you so much for all you are doing to help our less fortunate. If you have any questions, please feel free to call me or email me at any time. Sue Dever BEDS Plus Emergency Services Coordinator 708-261-7078
Share
---
Re: Update to Meal Train Calendar
Posted Dec 1, 2020 by Susan Dever of BEDS Plus
Good morning Meal Train participants! I just wanted to make you aware of changes I made to the calendar. Due to the number of homeless guests now housed in area hotels, I had to change the option of 30 meals to 35. If this is too many meals for you to supply, please contact me in advance and let me know. Sometimes we have random meals dropped off at the support center which we could use to fill the gap. I'm truly sorry for any inconvenience this may cause and I thank you from the bottom of my heart for all you are doing to keep our homeless friends fed. Please feel free to contact me with any questions, concerns or ideas you might have to keep this Meal Train running smoothly. Thank you all and stay safe!! Sue Dever BEDS Plus Emergency Services Coordinator 708-261-7078
Share
---
BEDS CONTINUES MEAL SUPPORT THRU AUGUST AND SEPTEMBER
Posted Jul 15, 2020 by Erin Molek of BEDS-PLUS
Thank you for your dedication, donation and service during the Covid-19 crisis. We could not provide the much-needed services without each and every meal you provided. We continue to provide daily Meals to our clients housed temporarily in motel settings. Our staff is working hard to house individuals and has already housed 20 individuals/families since the start of the Covid-19 crisis. Would your team or any individuals be interested in signing up for a meal for another meal the coming month of August or September for our clients at the motels? I have broken down the daily meals into groups of 40 and 20 to keep costs down per group or individuals providing meals. Please feel free to share this email with friends, groups or organizations that may be interested in providing meals at this time. As you may guess our volunteer opportunities are limited at this time to minimize contact with our at-risk clients but our meal support still continues. Hoping everyone is staying well and safe. Contact me with any further questions regarding logistics. https://www.mealtrain.com/trains/rwww62
Share
---
BEDS IN NEED OF ADDITIONAL MEALS DUE TO CHANGES IN PROCEDURES
Posted Jun 17, 2020 by Erin Molek of BEDS-PLUS
BEDS COVID-19 UPDATE JUNE 17. 2020 Thank you for your continued support of BEDS clients. After 4 months of isolation and shelter lockdown BEDS is moving our vulnerable clients into a new phase along state and CDC guidelines. We have moved clients into housing or motels and we are continuing to protect and support them during this time. Our shelter clients have now moved into motel settings with the support of BEDS-Plus. We will continue to support them with case management and supplement with a minimum of one meal a day. This has increased our meals needs for 40 families and individuals to 80. Therefore we are adding the opportunity to volunteer and donate an additional meal team and/or shelf stable meals per day in addition to our regular mealtrain teams already on the schedule. . 40 SHELF STABLE MEALS These donations can include the purchase and delivery of shelf stable meals (NOTHING THAT WOULD NEED TO BE REFRIGERATED OR FROZEN). One Hormel meal, a fruit cup and drink would be a good example of a meal. Here are the suggested items : HORMEL COMPLEATS MEALS $1.98 at Walmart with a protein (chicken/beef more expensive at Menards) Instant Mac and Cheese in microwave containers White Chicken and or Tuna flavored in pouches ( Tuna creations/chicken Creations) Chef Boyardee pastas in microwaveable bowls Fruit cups Small bottled drinks/water/juice soda Breakfast Bars Individual chips and cereal Please share with friends and organizations as we are in great need of these services at this time. We couldn't continue to provide this much need support during these critical times without you! Please contact me with any questions 7086387818 phone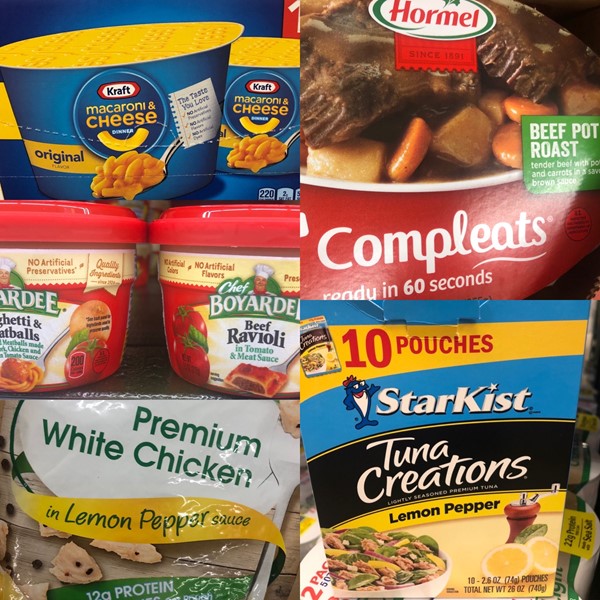 Share
---
BEDS CONTINUING MOTEL SUPPORT THRU JUNE AND OTHER UPDATES
Posted May 19, 2020 by Erin Molek of BEDS-PLUS
Dear BEDS Meal providers, Thank you so much for your donations and time in helping us to continue supporting our vulnerable population during this unprecedented time. BEDS truly could not continue these programs without you. The donation of a home cooked meal, MEAL IN BAG and purchased and donated meals from local restaurants has been instrumental in the ability for BEDS to provide services the last 9 weeks. When we drop off meals to clients, their sincere gratitude is ever present and immeasurable. On their behalf and from the staff at BEDS…we sincerely thank you for your kindness. On June 5th we will be changing our shelter operations in the West at St Barbara's. BEDS will continue to support/move many individuals in motels, consolidate shelter clients and assist food insecure housed and at-risk clients. BEDS will continue to provide meals thru June; we will notify you if the program is extended into future months.Please share this Mealtrain link to friends, groups and on social media outlets if you would like. BEDS has also been able to accelerate housing clients with changes in programs due to Covid-19. I will be adding a "Help With Move-ins" sign-up on the Mealtrain for certain dates and times. This opportunity is available to volunteers who have been practicing social distancing and are able to move furniture items. We will incorporate and adhere to CDC guidelines for social distancing. Please feel free to contact me with questions or refer anyone interested to :708.638.7818 or volunteer@beds-plus.org Sincerely, Erin Molek Community Engagement Coordinator volunteer@beds-plus.org
Share
---